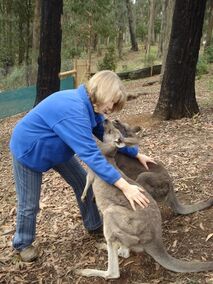 This information is taken from the Wildlife Victoria website

http://www.wildlifevictoria.org.au
Introduction
Edit
Wildlife Victoria is a not for profit and volunteer based organisation that has been at the forefront of wildlife rescue and rehabilitation in Victoria since its formation in 1989. It provides a 24 hour, 7 day a week wildlife rescue and information service. Wildlife Victoria also maintains a wildlife care and communication network across Victoria which assists wildlife rehabilitators.
By using a comprehensive networking system of wildlife shelters, Wildlife Victoria rescuers and transporters, emergency services, government agencies and commercial operators, we are able to respond swiftly and effectively to all manner of wildlife rescue situations, from orphaned ducklings to injured adult kangaroos.

Wildlife Victoria also has trained volunteer rescue teams that can be called upon at any time to assist in wildlife rescue emergencies such as bushfires and oil spills.

Wildlife Victoria is managed by a committee of management of 11 people elected each year from organisation members. All members are eligible for election to the committee. Click here for more information about the committee.
Our Mission & Aims
Edit
Wildlife Victoria is dedicated to the care and protection of Australia's native wildlife through the pursuit of the highest standards in wildlife rescue, rehabilitation and care, with continued commitment to carer support, education and training, wildlife advocacy, research, promotion of partnerships and the preservation of natural ecosystems.

We aim:
To provide expert care for sick, injured and orphaned native wildlife

To rehabilitate native wildlife in accordance with the relevant government organizations' policies

To provide a wildlife rescue, communication and information network throughout Victoria

To foster community awareness and appreciation of the intrinsic value of native wildlife and its habitats

To encourage and support a high standard of knowledge and expertise with the wildlife shelter system

To work in collaboration with like organizations for the benefit of native wildlife and its habitat
Membership
Edit
You can join Wildlife Victoria with a choice of single, family or corporate membership. Members do not have to be involved with wildlife; we have many supporters whose membership fees help with the running costs of Wildlife Victoria. To become a member of Wildlife Victoria click here to go to the membership form.

Renewing Members You can simply renew your membership by clicking the 'Donate Now' button and choosing 'Membership' from the drop down box.

Benefits
By joining Wildlife Victoria your membership fee contributes in various ways to the organisation. Wildlife Victoria's main expense is the Emergency Phone, our 24 hour Emergency Phone Line for help for injured, sick and orphaned wildlife.

We also purchase rescue equipment and road signs, sponsor education and training days. Wildlife Victoria has very few paid staff and relies on the hard work of volunteers to provide the excellent standards that we are known for.

Members of Wildlife Victoria benefit in various ways:
Networking – Members have access to a wide network of people with differing skills. Networking gives a shelter operator a support base and gives carers access to a vast pool of knowledge.
Wildlife Matters – Members are kept up-to-date with what is happening in the industry through Wildlife Victoria's newsletter. This informative publication is full of helpful hints from making your own kangaroo stretcher carrier to recognising and treating various ailments that affect Australian wildlife.
Insurance – Wildlife Victoria holds an insurance policy that covers members and volunteers when they are undertaking tasks for Wildlife Victoria. You should check Wildlife Victoria's policy before beginning to undertake volunteer work for Wildlife Victoria as certain limitations do exist.
Supplies – Wildlife Victoria supplies formulas, books and other related items and many of these items are much cheaper for members. Visit our supplies page for a list of items, prices, member discounts and purchasing information.
Training – Wildlife Victoria run many training events throughout the year from basic rescue and first-aid for animals to volunteering for disasters such as an oil spill that has affected sea birds.
Fundraising – Wildlife Victoria can supply money tins for members to help them raise funds to support their wildlife care. Members can access tins by contacting us.
Wildlife Victoria Constitution
Wildlife Victoria has a constitution that members are required to adhere to. A copy of the consitution is available to members by clicking here .
Volunteering
Edit
WIldlife Victoria relies on the hardworking volunteers that work as rescuers, carers, and office volunteers, who all keep the organisation running. Everyone has gone above and beyond the call of duty to assist the wildlife that has been affected by the Victorian bushfires. We would like to acknowledge and sincerely thank everyone who has been involved in the bushfire relief effort, fire zone volunteers, triage staff, vets and nurses, supply/logistics, media and donations coordination. Wildlife carers will be treating and rehabilitating animals for months to come. We also thank the CFA and SES men and women who have brought back injured wildlife that they have found while fighting fires.

General email addresses:

Office: [1]office@wildlifevictoria.org.au This e-mail address is being protected from spambots. You need JavaScript enabled to view it Donations (Amy / Andie): [2]donations@wildlifevictoria.org.au This e-mail address is being protected from spambots. You need JavaScript enabled to view it Fundraising activities & events (Amy): [3]fundraising@wildlifevictoria.org.au This e-mail address is being protected from spambots. You need JavaScript enabled to view it
Education Enquiries (Adriana): [4]adriana.simmonds@wildlifevictoria.org.au This e-mail address is being protected from spambots. You need JavaScript enabled to view it Volunteering (Anita): [5]volunteer@wildlifevictoria.org.au This e-mail address is being protected from spambots. You need JavaScript enabled to view it Supplies: [6]supplies@wildlifevictoria.org.au This e-mail address is being protected from spambots. You need JavaScript enabled to view it Training (David): [7]training@wildlifevictoria.org.au
Community content is available under
CC-BY-SA
unless otherwise noted.