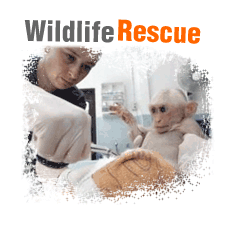 Wildlife Friends of Thailand provides a number of volunteer opportunities working with wildlife. Although primarily based in Thailand, opportunites are also available in other south eastern countries.
This information is taken from their website
http://www.wildlifevolunteer.org/
Wildlife Friends of Thailand
[
]
The world's animals are in need of help, due to deforestation, the illegal wildlife trade for exotic pets, consumption of wildlife, and worldwide pollution.
This all is caused by greed, corruption and lack of education. The wildlife volunteer projects you find on this website are trying to make a difference, in need of people like you to make this change a successful one!

On this page you will find wildlife volunteer projects located in South East Asia, Thailand in particular, where volunteers are wanted to help out at wildlife rescue centers, conservation projects and research facilities. Volunteering with animals in these parts of the world where the illegal wildlife trade is at it's worst can make a huge difference for the animals under the care of the wildlife rescue projects, and have a direct impact on the conservation of the animals still in the wild due to education projects at the facilities towards the local community showing that wildlife conservation and animal welfare do go hand-in-hand.
The WFFT Wildlife Rescue Centre, Thailand
[
]
The WFFT Wildlife Rescue Centre, Thailand, was founded by Dutch-born Edwin Wiek in early 2001. This centre has given shelter to a large number of different wild animals, some of them for a short period and for some, it will continue to give shelter for the rest of their lives. The Wildlife Rescue Centre is the perfect place for volunteering with animals abroad, and volunteers are always needed.

At the centre you will have the amazing opportunity to volunteer in Thailand with animals, working with animals and helping us to care for a wide variety of wildlife. These include 5 different species of macaque, 2 species of gibbon, civets, a tiger, sun bears and Asiatic black bears, a crocodile, a binturong and exotic birds. Our centre tries to provide all of these animals with enclosures and living conditions as close to "natural" as possible. Our overall objective will always be to rehabilitate these animals back into the wild.
What do we do?
[
]
We rescue wild animals from places where they are maltreated and/or neglected, and help them to spend the rest of their lives in a sanctuary, run by volunteers, as close to the natural environment as possible with the best possible care. In particular, we provide a permanent sanctuary for life for those animals that no-one else is prepared to care for, e.g. the sick and disabled.

We want to educate people, particularly children, to stop cruelty to animals. In particular campaign against the illegal trade in wild animals for the pet industry and discourage the use of animals for entertainment, for example in live animal shows.

We want to stop hunting and promote conservation of all natural resources, fauna and flora alike. This can be achieved by educating local people, wildlife volunteers, tourists and the international community to appreciate, understand and protect wild animals and their rainforest habitat. We cooperate with and assist the Royal Forestry Department and other organizations concerned with the rescue and conservation of wild animals.

We gather knowledge to start up a release program for those animals that qualify for re-introduction into the wild.

We set up and join activities with other charitable organizations and authorities.
Bears
[
]
We rescue bears from places where they are maltreated and/or neglected, and help them to spend the rest of their lives in a sanctuary as close to the natural environment as possible with the best possible care. In particular, we provide a permanent sanctuary for life for those bears that no-one else is prepared to care for, e.g. the sick and disabled.
Like Bouncer, the black bear, whose front leg was caught in a trap when he was a cub and had to be amputated. He now lives a full life with 9 other bears in a large enclosure.
Gibbons
[
]
At the Gibbon Rehabilitation Centre in Kao Look Chang bordering the jungle of Petchburi a few selected groups of gibbons are being rehabilitated to prepare to go back to the wild.
All these gibbons have come through the Wildlife Rescue Centre and are now living on large natural islands, adapting to life in the trees again, in our primate rehabilitation scheme. In total we can accommodate over 50 gibbons on islands, a much better option than placing them in cages.
The islands are situated in a beautiful lake at the front of the rescue centre and you can watch the gibbons swinging through the trees and hear them singing their unique songs to each other.
Most gibbons are fed small amounts of food each day to supplement their diet, however they quickly learn to forage from the natural resources on the islands. The food is taken out to islands by boat and is hoisted up into the trees in a basket, thereby ensuring there is no human contact with the animals.
Two pairs of gibbons on the two of the islands have produced young, thereby showing the ultimate in natural behaviour.
Frequent research programs have been implemented to study the behavior of both captive and wild gibbons alike. The islands give people a unique opportunity to study wild behaviour of gibbons who have previously been held in captivity.
Elephants
[
]
The Elephant Refuge & Education Centre, is a sanctuary located about 160 kilometres south west of Bangkok on monastery grounds that are part of a large Wildlife Rescue Centre, and it's the perfect place to volunteer abroad with elephants. Nearby forests give our captive elephants the chance to roam around in their "original, natural" habitat. They spend from late afternoon until early morning on their own in the forest enabling them to display natural behaviour and to forage for themselves for food. Thailand is home to both wild and domesticated populations of the Asian elephants. A domestic elephant is one who has been captured in the wild and tamed to live and work with a mahout (elephant keeper).
Today, Thailand's wild population of elephants are struggling for survival. The nearby mountain forests are primary forest and in the valleys and lowlands, secondary forest. The wild elephants of Thailand (of which we estimate, there are only around 2000 left) live in open grass fields and dense rainforests all over the country. Historically, domestic elephants have been used mainly in the logging industry, ironically and unwillingly helping to destroy the very habitat they need to survive.
After the ban on logging, most of these elephants have ended up being used for the tourism industry or have had to make a living begging on the streets of big cities. Walking day and night on these dirty and traffic congested streets is dangerous and unhealthy and very often, these elephants end up being involved in horrific traffic accidents. Regrettably, in Thailand, there are no laws to prevent this abuse and mistreatment, therefore there is an urgent need to help these animals. This is where our volunteers come in. When volunteering with elephants, you will be taught everything you need to know about the care of these magnificent animals. You will work hands-on with the elephants, washing them, feeding them during the day, going out to collect food for them, taking them into our beautiful lake to swim and cleaning their enclosure. The financial contribution you make to the centre supports the costs of caring for the elephants and for your food and accommodation.
The accommodation is in simple bungalows within the wildlife centre. Each bungalow has its own (European style) toilet and shower and are mainly either two or three bedded. There is a large kitchen within the main volunteer house for making breakfast and hot drinks. Lunch and dinner is cooked for you. The volunteer house has a large seating area and TV and DVD player for the evenings. You must have a positive attitude towards group living and teamwork. Your stay at the centre will be basic and you will be expected to help with housework duties and keeping the volunteer house clean and tidy.
Marine Project
[
]
Our new marine project, located in Trang Province, specialises in the research, protection and rescue of marine animals native to Thailand, particularly whales, dolphins, dugongs (or sea cows) and turtles. Volunteers required.
Introduction
Thailand has a long coastline on two different seas, the Gulf of Thailand as well as the Andaman Sea. In both seas we find lots of marine life; coral reefs, fish, sea snakes, marine turtles, dolphins, whales and even the dugong or "sea cow". Currently it is believed that besides these turtles and sea cows there are 22 species of dolphins and whales (cetaceans) present in Thai waters. Sizes of these cetaceans are from as small as a little shorter than 2 meters (finless porpoise) up to a staggering 27 meters long (fin whale). Most data to support the claim of their presence are from specimen washed up to the coast after they have died while some confirmations of occurrence is from live sightings.
Some coastal species of dolphins found in Thailand such as the Pink or Indo-Pacific Hump-back dolphin (Sousa Chinensis) and the Irrawaddy dolphin (Orcaella brevirostris) are often seen off the coast of Thailand as they seem to spend most of their time in shallow waters, while other dolphins such as the bottle-nose dolphins are spending most of their time hunting in deeper waters.
Sightings of Whales are harder to find. Whales stay in deeper waters and can usually not been seen from the coast, they surface not very often unless they are hunting and their numbers found in the wild are also lower than dolphins. When the seas are not quiet and wind and waves make it even more difficult to spot these magnificent creatures it is hard to get a good idea of their occurrence, numbers and behavior even if it is a very large fin whale or Sei or Brythe's whale. Some of these whale species have never been confirmed alive in Thai waters and only been found stranded on Thai beaches.

Trang Province
Trang Province is well known for its high biodiversity due to the large amount of islands right off the coast and further west. Three species of dolphin are found very frequently right off the cape where our center is located.
The largest population of Dugongs in Thailand is only 12 kilometers away. Trang has its own airport only 40 minutes from our project site with two flights a day from and to Bangkok. The bus terminal is less than one hour away with busses arriving and taking off to Bangkok, the Malaysian border, Phuket island and all surrounding provinces.

Finding answers
So we know that there are probably 22 species of marine mammals in Thai waters, but how many of these species are really here, more or less? How many of these species are found all year round? What are these creatures doing here? Are they here to feed, to breed or give birth to their offspring? Or are some of these cetaceans just passing by on their way between feeding grounds and breeding spots, looking for warmer water from colder parts of the world? What are these animals feeding on in Thai waters? And last but not least what are the current threats to the existence of these marine mammals?
The Cape Trang Project is trying to find answers to some of these questions by finding the dolphins and whales and observe their behavior, photograph their characteristics for comparison and identification - for example, dolphins can be easily identified from clear pictures of their dorsal fins - to learn more about their behavior and occurrence without disturbing their natural behavior.

How can you help with the marine project?
Joining the project as a volunteer training researcher you will basically learn everything about research work on marine mammals. After the first days of training on species identification, standard operation procedures, safety, GPS use and use of the boat you will be ready to join the team on board of one of our boats.
Your duties onboard are helping researchers studying dolphins. In the beginning researchers will train you to perform specific tasks: watching, underwater camera monitoring, behavioral data collecting, photo-identification, steering, acoustic recording etc. Navigation data are collected in order to estimate dolphins relative sighting frequencies. The presence of sea turtles, tuna, swordfish, fish schools, mantas, and marine birds, is also recorded. During daylight there is usually free time for a swim, or for the skipper to give theoretical and practical sailing lectures. In case of bad weather can help to order the collected data, enter them into the computer and in preliminary analysis. Extra lectures and video sessions will be offered by the team.
For further information on the Marine Research & Rescue project, please see our Marine FAQs section.

Volunteers will typically rotate a day at sea followed by a day on land processing and analysing the data with the resident biologist during the course of this project. Diving opportunities may also be available for those with certification.
Forest Restoration for Wildlife Habitat
[
]
The Wildlife Friends Foundation Thailand (WFFT) established its rescue centre on the grounds of Kao Look Chang Buddhist temple in mid 2001. Since the beginning of 2006, WFFT has been engaged in a new project to restore the local forests to their original condition for the purpose of wildlife rehabilitation and to use the project as an educational tool to promote awareness and respect for forests and their wildlife inhabitants.

Volunteer Duties for Wildlife Habitat project We require assistance with basic nursery and forest restoration plot duties, typically including the following:
seed collecting and phenology trail monitoring
germination monitoring & record keeping
assisting with nursery work, e.g. seed treatment and potting seedlings
site preparation and after care; weeding, watering and fertilising
digging holes and planting trees (seasonal June-Aug)
growth rate monitoring & record keeping
preparation and delivery of educational materials in English to students from international schools
nursery maintenance
The types and variety of duties will depend largely on the duration of stay of each volunteer and number and skills of volunteers participating. Some of the work is also seasonal and dependent upon available resources on-site at the time.

Depending upon specific requirements and number of volunteers, it may also be possible for participants on this project to help out with animal care duties at the wildlife rescue centre.

Your stay will provide you with an insight into the methods of forest restoration and wildlife rehabilitation as well as the issues surrounding the inter-dependence of forests on their wildlife and of wildlife on their forests.

Volunteer requirements Volunteers with enthusiasm, team spirit, and who are fit enough to work hard in a hot and humid climate are desired to assist with the forest restoration project for wildlife rehabilitation. No forestry, botany, biology or ecology experience is necessary, although representatives from relevant fields are more than welcome to contribute to the team. The ability to climb trees to collect hard-to-reach seeds and fruits is a bonus!

We are looking for max 2 volunteers throughout the year, excluding planting season (late June to early August), where we can accept up to 8 volunteers at one time.

The working language for overseas volunteers is English, but Thai-speakers are also welcome. Hence the ability to communicate in one or both of these languages is a requirement.

Duration We ask for a minimum commitment of 2 weeks, except during the planting season when we will accept volunteers for as little as 5 days. There is no maximum limitation on the tenure; volunteers at WFFT in the past have stayed up to 6 months.

Volunteers at WFFT are people willing to contribute their time and support for the benefit of habitat and wildlife conservation. Those that wish to learn about environmental issues in tropical countries and want to help out during all or part of their trip to Southeast Asia.

As usual, the volunteer fee covers the cost of meals and accommodation as well as a small donation towards the running of the project.
How can you help with all WFFT projects?
[
]
The WFFT rehabilitation centre always needs help from animal lovers whether in the form of volunteer work, donations or professional help such as veterinary experience. The centre would not be able to run without the hard work of the volunteers and the generosity of those who provide financial support in the way of donations.
If you feel you can and want to help out as a volunteer or donator please contact us.

You can ask for additional information about our projects, including any conditions for volunteering and trip costs. If you are interested in a volunteer position, please send an e-mail or letter of motivation via email to volunteer@wfft.org explaining your interest in the project, a brief paragraph about yourself and your proposed length of stay.
Volunteering
[
]
Thank you for your interest in volunteering with the Wildlife Friends of Thailand / Gibbon Rehabilitation centre. We currently operate 3 projects in Thailand that paying volunteers can participate in. Short and long-term volunteering stays are possible; however, volunteers are required to make a minimum commitment of three weeks. As a general rule, stays less than 3 weeks are not permitted.

WFFT wildlife volunteers are required to make a cash donation to the project they participate in; these contributions are essential to keep the projects running and to allow us to embark on new projects and keep on expanding so we can help even more animals in need. However, this requirement may be waived under special circumstances. For instance, the rescue centre is in constant need of clinical equipment and medicines. In lieu of this type of donation, we would not require you to make any additional payment, although the exact details of such an agreement would need to be discussed before your stay. For veterinary professionals with experience in wild animal medicine the fee can also be waived. We will also waive the volunteer fee for doctoral students and professionals in specific fields (zoology, biology, animal behaviour, veterinary medicine), but only when needed.
Once again, thank you for your interest in our organization and projects. You can ask for additional information about our projects, including conditions for volunteering with animals and costs. If you are interested in a volunteer position with the Wildlife Friends of Thailand, please send an e-mail or letter of motivation via email to volunteer@wfft.org explaining your interest in the project, a brief paragraph about yourself and your proposed length of stay
Please read the Frequently Asked Questions page here
[
]
http://www.wildlifevolunteer.org/faqs.htm
See also
[
]