This information is taken from the Wildcare website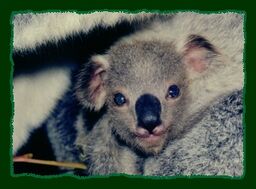 Introduction
Edit
Wildcare Australia is the registered trading name of the Australian Koala Hospital Association Incorporated and was formed in late 1993 by Dr Jonathon Hanger. It became an Incorporated Association and registered charity in 1994 and is listed on the Register of Environmental Organisations.
In June 1996 when the government group of NAVOS folded, 3 carers (Eleanor Hanger, Gail Gipp and Sharon White) decided to form their own volunteer carer's wildlife rescue operation. They started a 24-hour wildlife emergency telephone service in SE Queensland. The area covered rapidly expanded, reaching from the NSW border, west to Boonah and north to the Logan River. A group 'umbrella' rescue permit was established, enabling current registered Wildcare rehabilitators to be able to rescue and rehabilitate sick, injured and orphaned native animals for release back into natural habitat.
Primary Objectives
Edit
The primary aims and objectives of Wildcare Australia are:-
To provide a high standard of rescue, care, rehabilitation for sick, injured, orphaned and displaced native fauna for successful release into the natural environment.
For the protection and enhancement of the environment by providing quality care in Queensland for sick, injured, orphaned and displaced native Australian wildlife.
The conservation of native fauna and their habitat Australia-wide, including research on the biology and medicine of native fauna is also of primary concern.
To provide an educational and consultancy service to schools and other organisations with respect to habitat conservation and related issues
To provide extensive and up to date training for wildlife volunteers in all aspects of wildlife care.
To operate an professional wildlife organisation in South-East Queensland which can be contacted at any time by any person in the community needing assistance with the care or rescue of native wildlife.
To publish a newsletter every 3 months and distribute it to current members and sponsors.
Help by Becoming a Wildcare Australia Volunteer
Edit
Even if you do not have the time or facilities necessary to become a Volunteer Wildlife Carer there are many other ways in which you can help Wildcare Australia.
Volunteers are always required in the following areas:-
Rescues:
As our volunteer wildlife carers are so busy with caring for the animals already in their care we often require the assistance of members who would be willing to pick up and deliver sick or injured animals to our volunteer carers. A few hours now and then would help alleviate the work load of our over-burdened volunteer carers.

Administrative Duties:
There are many administrative functions that are conducted by volunteers such as answering the emergency rescue telephone service, helping with our quarterly newsletters etc
Fundraising:
We always require volunteers to help with fundraising activities (every bit helps!). This responsibility usually falls to our volunteer wildlife carers who are usually so busy looking after for the wildlife in their care.
Publicity / Promotion:
Volunteers are regularly required to help man display stands at expos and shows. If you can spare a few hours here and there we would love to hear from you.
Carpentry:
We are always looking for the assistance of handy people to help with the construction of possum and bird nest boxes, donation boxes and cages.
How to Join Wildcare AustraliaEdit
You can join Wildcare Australia by simply downloading the Membership Application Form ( pdf - doc ), completing and sending it with payment of your membership fees to Wildcare Australia, PO Box 2379, Nerang Mail Centre, Qld 4211.
Community content is available under
CC-BY-SA
unless otherwise noted.