http://www.thearaproject.org/
Macaw Conservation in Costa Rica
Edit
The Ara Project is a Costa Rican licensed zoological park and non-profit organization dedicated to the conservation of the two native macaw species of Costa Rica: the critically endangered Great Green or Buffon's Macaw (Ara ambiguus) and the Scarlet Macaw (Ara macao).
The Ara Project incorporates breeding techniques and aviary management in order to carry out controlled release programs in conjunction with Costa Rican wildlife laws imposed by MINAET (Ministry of the Environment, Energy & Telecommunications).
The breeding center is currently situated in Rio Segundo de Alajuela in the Central Valley. Its only purpose is captive breeding for release into the wild. Visits can be made by appointment.
For news and updates go to The Ara Project's [blog]
The Project
Edit
The Ara Project has been involved in macaw conservation for over 25 years by means of breeding in captivity and reintroduction programs. The Ara Project's breeding center has the largest collection of Great Green Macaws in captivity.
Between 1999 and 2009, The Ara Project released a total of over 80 Scarlet Macaws in it's three release sites; Curú Wildlife Refuge, Palo Verde and Tiskita Biological Reserve. The released macaws have a survival rate close to 90% and several pairs have been successfully reproducing, creating natural population augmentation.
New releases are scheduled for 2011, including the first Scarlet Macaw release in the Punta Islita release site and the first Great Green Macaw release in the Manzanillo release site.
Make a selection:
Breeding Center
Edit
The breeding center is where the breeding stock is kept, chicks are raised and macaws selected for release await assignment to a release site. It is also the headquarter of The Ara Project and a zoological park that can be visited by appointment.
The breeding center has a stock of about a 100 Great Green Macaws with over 60 bred for release and about a 100 Scarlet Macaws with over 200 bred for release.
Make a selection:
Picture Gallery: Breeding Center
Release Sites
Edit
The release sites are where the macaws bred at the breeding center are released in controlled release programs. The controlled release programs incorporate wildlife management and scientific research. The central part of a release site is made up by a pre-release aviary and by a feeding station. The pre-release aviary and the feeding station are part of the soft-release method applied by The Ara Project.
The Ara Project has released a total of 80 Scarlet Macaws in its release sites.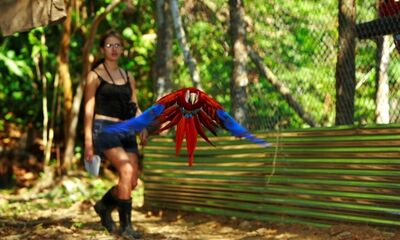 Make a selection:
Picture Gallery: Release Sites
Volunteer
Edit
Join The Ara Project in a unique opportunity to work with the macaws of Costa Rica and experience an interesting and ground breaking conservation program.
Make a selection:
Volunteer at the Breeding Center
Postal Address
Edit
The Ara Project, APDO 1904-4050, 20101 Alajuela, Costa Rica
General Enquiries
Edit
Fernanda Hong Beirute Email: fernanda@thearaproject.org Phone: (506) 8389-5811
Breeding Center Enquiries
Edit
Chris Castles Email: chris@thearaproject.org Phone: (506) 8730-0890
Volunteer Enquiries
Edit
Email: volunteer@thearaproject.org