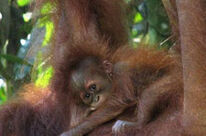 The Orangutan Health Project in North Sumatra, Indonesia, accepts volunteers for orangutan research. They also sometimes have job vacancies for researchers. The following is copied from their website: http://www.orangutan-health.org/.
Volunteer program
Edit
By volunteering with OHP, you will be contributing to the research and conservation goals of the project. It is hoped that these efforts will lead to an improved understanding of how best to promote the long-term survival of the orangutan and its unique ecosystem by improving our understanding of both.
VOLUNTEER TEAM DATES FOR 2010 ARE:
Edit
January 4-17
February 1-14
March 1-13
April 5-17
May 3 -15
June 7-19
July 5-17
August 2-14
September 6-18
October 4-16
November 1-13
December 6-18
Principal Investigator: MVDr Ivona Foitova PhD Qualifications: Doctor of Veterinary Medicine, PhD study of Diseases of Wild Animals and Animals in Zoological Gardens from Veterinary and Pharmaceutical University of Brno, Czech Republic, Europe. Affiliations: UMI - Saving of Pongidae Foundation. Research Site: Leuser Ecosystem, North Sumatra, Indonesia. Rendezvous site: Polonia International Airport in Medan, North Sumatra, Indonesia. Cost: US$1,289 (excluding flights, insurance and tourist visa) / US$990 for students (excluding flights, insurance and tourist visa). Team size: Minimum 2, maximum 8.
Your participation fee is used to cover all the day-to-day expenses of running the project, including food and accommodations for volunteers and staff, operation of the project base, lab equipment and supplies, and helps provide the funds necessary to transport faecal, plant, and soil samples abroad for important analysis work. We also pay the full cost of national park permits, at tourist rates. Any "leftovers" are invested in the future expansion of the project, including the building of an ambitious new research station in an area of forest previously unstudied. This area is home to a significant population of wild orangutans and the new station will go a long way to protecting their habitat while simultaneously providing a site for conservation education, an international summer school and an expansion of research.
The project is proud to be able to provide important work for the local community and employs only local guides for trekking in the forest.
A SAMPLE VOLUNTEER SCHEDULE MAY GO AS FOLLOWS:
Edit
Day 1: Arrive in Medan, travel to project, orientation to location, rest and recuperate.
Day 2: Orientation to project and tasks. Start work in the office.
Day 3: Visit the orangutan feeding platform and practice trek in the forest. Second visit to feeding or free-time (swimming/tubing, etc.)
Day 4: Volunteer tasks at base (see below).
Days 5-10: Fieldwork/trekking with overnight stays in the forest carrying
out tasks necessary to the project's research (see below). Three meals per day and water are provided.
Alternatively, several one-day treks in the jungle to carry out tasks necessary to the project's research (no overnight camping)
Day 11: Field work data processing.
Day 12: Free day. (Re-visit feeding platform/swimming/tubing/opportunity for cultural outings.) Volunteer BBQ.
Day 13: Travel to Medan (AM) for afternoon flights.
IMPORTANT: The above is only an example of a possible schedule of activities. It is always subject to change based on the needs of the project. Staying overnight in the forest is not guaranteed and will be based on considerations such as weather, staff availability, number of volunteers, and most importantly, physical fitness of the volunteers.
POSSIBLE RESEARCH TASKS AT BASE:
Edit
Entering behavioural data collected by Field Assistants
Organising samples of orangutan foodstuffs and preparing for our herbarium
Organising faecal samples collected by Field Assistants
Preparing equipment for Field Assistants to go to the forest
Preparing behavioural data sheets
Preparing sample bottles for Field Assistants
Shopping for project supplies in town or at the local market
Brainstorming ideas to help the project's promotion
Keeping temperature, weather and humidity data records updated
Cleaning project office and accommodation
POSSIBLE RESEARCH TASKS IN THE FOREST:
Edit
Locating areas with a significant wild orangutan population
Finding and following orangutans to collect behavioural data and faecal and plant samples
Nest counting to provide seasonally varying estimates of the orangutan population
Fruit trail transects to record the range of foodstuffs available to orangutans in an area
Volunteers on every team will get proper instruction and information about the following matters:
The project and your role/responsibilities within it
Safe behaviour in tropical countries, potential health risks and precautions
Proper sample collecting techniques and data entry protocols
Advice about the best clothing and equipment for work in the forest
Local flora and fauna and especially about the orangutans
Indonesian culture, basic language, and appropriate behaviour in Sumatra

In addition, volunteers may also be given presentations on wildlife research and conservation, parasite finding in orangutans and field parasite diagnostic methodology. The most important fact - there will be absolutely NO physical contact with the orangutans. If you are hoping to come so that you can cuddle one of these amazing creatures, then this is not for you. This rule will be strictly enforced if necessary. We also cannot guarantee encounters with orangutans – our research focuses on wild orangutans and much of our work therefore takes place in areas where the orangutans themselves can be quite elusive, often staying high up in the canopy or travelling to other areas where more fruit is in season. This is the reality of wildlife fieldwork. However, should you be lucky enough to catch even a short glimpse of one of these graceful creatures in its natural habitat, the experience will certainly stay with you forever.
You will have free time to enjoy the beauties of the Indonesian culture and environment.
Being near a fast running river, rafting is available. Costs can range from around US$15 to US$75 for a half day. There is also "tubing" which is a cheaper option and lots of fun (about US$5/day to rent an inner-tube)! It is also possible to go for a longer walk to a smaller but deeper river for some swimming and to see more of the local scenery.
If this isn't fast enough action for you, it's also possible to rent a motorbike (with or without driver) and go for a tour of the local area. There is a bat cave and a number of other rivers and waterfalls to be discovered and explored
If you're worn out after all this, the local people are excellent at giving massages to those tired limbs, and the prices are very reasonable!
As you require a 30-day tourist visa to enter Indonesia and will be with the project for 13 days of this, you have an excellent opportunity to explore more of this incredibly diverse country. For a better idea of what is available, have a look at: www.indonesia-tourism.com www.expeditionjungle.com
We run one team per month for 13 days (this can increase if interest is great). Minimum of two team members, maximum of eight.
ACCOMMODATION
Edit
Accommodation is VERY basic, but clean. While staying at our base, you will probably share accommodation with other volunteers, depending on the number of volunteers in your team. You will have a bed, a mosquito net, and a small "bathroom" with a basic non-western toilet (squat-style toilet, which flushes when water is run through). You will be asked to clean yourself as per the local custom, using only water and your left hand after using the toilet, so as to avoid blockages caused by paper. There will be no shower, but a supply of cold water that you scoop over yourself to wash. All our base accommodation has electricity unless there's an outage, which often happens during heavy rain. There's a variety of insects and small animals around for you to get acquainted with - cats, geckos, ducks, rats, cockroaches, leeches, chickens, spiders and a variety of nameless critters. While trekking you will be camping in the jungle for up to 5 nights at a time with only a tarpaulin and thin foam mat separating you from the forest floor. Food will be cooked over an open fire and water from a clean river nearby boiled to provide safe drinking water.
Meals will be taken three times a day. There is no menu, and the food will be basic Indonesian cuisine, which mainly consists of rice, noodles, vegetables, eggs and occasionally chicken/fish. It is simple, but also tasty, utilising varying amounts of chilli, but rarely without. Fruit is plentiful, and you won't find many places in the world with more variety. Vegetarians can easily be catered for.
INTERESTED?
Edit
Then drop us a line on orangutanhealth@nusa.net.id or ivona_foi@hotmail.com (emergency only) and we can supply you with further details.
If you would like to get in touch with previous volunteers, please e-mail us for a contact list.
Community content is available under
CC-BY-SA
unless otherwise noted.