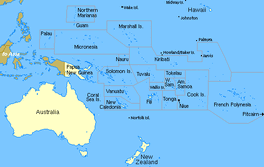 Programs in Oceania include:

AMRICC takes volunteers interested in being involved in dog health in remote and rural indigenous communities in Australia
Animal Welfare League, in Queensland, a dog and cat shelter
Australia Rainforest Wildlife Volunteers a wildlife sanctuary is situated in Port Douglas, just an hour north of Cairns.
Australia Walkabout Wildlife Park is a private zoo with volunteer programs
Australia Zoo is a private zoo in Beerwah, Queensland. Please also see Wildlife Warriors (Australia zoo)
Australian Animals Care and Education Inc a group dedicated to the rescue and rehabilitation of all injured, ill or orphaned native Australian wildlife based in Queensland, Australia
Australian Ecosystems Foundation works with Australian ecosystems and includes fauna surveys
Australian Youth Ambassadors for Development is an Australian Government, AusAID, initiative, that provides skilled young Australians the opportunity to volunteer overseas in Asia, the Pacific and Africa. A number of animal associated projects exist for appropriately skilled volunteers.
Australian Wildlife Conservancy acquires land, and works with other landholders, to establish sanctuaries for the conservation of threatened wildlife and ecosystems and frequently requires volunteers to work on many conservation projects
Australearn a professional matching agency providing a number of internship opportunities
Beyond predation; help a PhD student working with the brush tailed bettong (Woylie) in inland NSW.
Bungalow Bay Koala Village - a small and intimate wildlife sanctuary gives you the chance to work side by side with our two full time park rangers.
Conservation Volunteers has a variety of conservation and environmental projects based in Australia and New Zealand. Many involve habitat restoration and maintenance although some are more hands on with animals.
Currumbin Widlife Sanctuary is a wildlife sanctuary/zoo in Queensland, Australia
Department of Natural Resources South Australia opportunities to work in national parks in South Australia
Dolphin Discovery Centre has project available working with dolphin researchers
DNREAS - Northern Territory offers many opportunities to work in national parks and with research groups on a variety of projects
http://animalinternships.wikia.com/wiki/Eastern_quoll_research is looking for volunteers on an ecology research program investigating the decline of Eastern quolls in Tasmania
Earthwatch is an internationally renowned program supporting scientists around the world. Volunteers pay to help support projects they are involved in.
Enviro Jobs occasionally advertises volunteer opportunities in the environment management, natural resource, environmental engineering, environmental health and environmental science fields.
Geovisions is a commercial body offering multiple conservation internship opportunities around Australia
Global Volunteer Network is an ecotourism group with projects in New Zealand and around the world
Global Ecology Group - University of Adelaide has an ecological survey of kangaroos in Queensland running in 2011
Guide Dogs Queensland Guide Dogs Queensland offers opportunities to prepare puppies to be guide dogs
Hanson Bay Holiday Park and Wildlife Sanctuary runs a wildlife sanctuary located on Kangaroo Island, off the coast of South Australia
Kenyana Wildlife Rehabilitation Centre is a wildlife rehabilitation centre in Western Australia
Koala Hospital Port Macquarie is a koala rehabilitation centre on the coast in New South Wales, Australia
Little Penguin Research an ongoing research project monitoring little penguin health in Western Australia
Lizard Island Research Station takes volunteers interested in working on coral reef and marine research
Lone Pine Koala Sanctuary is a koala (and other things) sanctuary in Queensland offering long term volunteer opportunities
Marapana Wildlife Park is a wildlife sanctuary near Perth, Western Australia
Melbourne Water Frog Census an ongoing project monitoring frogs in Victoria, Australia.
Mon Repos Turtle Conservation Volunteers takes seasonal volunteers to monitor turtle hatching on beaches in the Mon Repos Conservation Park, Queensland.
Murdoch University Cetacean Research Unit research group involved in cetacean research based in WA. Sometimes require volunteers to help research projects
North Sydney Council Wildlife Watch an ongoing project monitoring wildlife in Sydney, Australia
Ocean World Manly a private aquarium in Sydney, Australia
Phillip Island Nature Park Wildlife Hospital works with birds including penguins and koalas
Samoan bird surveys is seeking volunteers to help with ecological surveys of birds in Samoa
Save the Tasmanian Devil Program in Tasmania, Australia.
Southern Brown Bandicoot Fieldwork is taking limited numbers of volunteers examining the effect of blackberry on the habitat of southern brown bandicoots in the Adelaide hills
There is a sperm whales and tourism research project being undertaken in Kaikoura, New Zealand in 2011
Tasmanian Bat Project involves helping a PhD research student monitor bats in Tasmania
The Oceania Project , is a Not-for-profit, Research and Information organisation dedicated to Raising Awareness about Cetacea (Whales, Dolphins and Porpoises) and the Ocean Environment and has frequent research projects requiring volunteers.
The Tolga Bat Hospital rescues and rehabilitates orphaned bats in Queensland, Australia
http://animalinternships.wikia.com/wiki/University_of_Canterbury,_Marine_Mammal_Behaviour?cb=8569 is taking volunteers to work on surveying New Zealand fur seals in New Zealand
Wingspan Birds of Prey Trust , a New Zealand program for NZ falcon, moreporks, and Australasian harriers.
Wildcare Australia rehabilitates wildlife in Queensland, Australia
Wildlife Victoria rehabilitates wildlife in Victoria, Australia
Wildlife Warriors (Australia zoo) is a large wildlife hospital associated with Australia Zoo in Beerwah, Queensland. A very large and dedicated veterinary staff and huge caseload. The place to see wildlife rehabilitation and treatment on a large scale in Australia.
WIRES , an Australian rehabilitation program for native wildlife.
WPSA has places for volunteers to work fundraising and in publicity for the group working from Sydney, Australia.
Zoos Victoria have three sites around Victoria and offer a number of volunteer opportunities
Zoos South Australia runs three sites in South Australia and has a number of volunteer opportunities