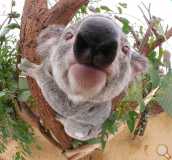 The following information is taken from the Lone Pine Koala Sanctuary Website
http://www.koala.net/index.php
Introduction
Edit
Rated one of the "Top 10 Zoos in the World" by AOL, Lone Pine Koala Sanctuary in Brisbane, Australia, is the world's first and largest koala sanctuary, with over 130 koalas. Cuddle a koala anytime, handfeed kangaroos and encounter a large variety of Aussie wildlife, all in beautiful, natural settings. Don't forget to feed the lorikeets and meet our platypus too. Brisbane's premier tourist attraction is only 50 minutes from the Gold Coast. Our motto is: "The earth is not only for humans"
Join the Lone Pine Koala Sanctuary team as a Volunteer
Edit
Are you passionate about Australian wildlife and love the outdoors? Are you reliable, enthusiastic and ready for a challange? Then we encourage you to apply to become apart of Lone Pine Koala Sanctuary's volunteer program!

Volunteers are an important part of the daily operation of Lone Pine Koala Sanctuary. We welcome volunteer and work experience applications in wildlife and administration. Volunteer applicants must be 18 years or over.
---
Administration
Are you working towards a degree in marketing, tourism or business? Perhaps you would like to contribute to a meaningful cause. Lone Pine offers volunteer positions within the management office and retails sections of the Sanctuary. Places are limited.
Wildlife Work directly with wildlife officers completing their daily duties, gaining experience and friends along the way. If your study requires practical experience, perhaps Lone Pine is the place for you. We accept practicum students so long as you are 18 years or over and the requirements of your course fit into our volunteer program.

Daily volunteer tasks may include:
Enclosure cleaning and maintainence
Animal food preparation
Feeding the animals

Lone Pine has a lot more than just koalas and there are a number of keepers responsible for animal care.

Our animals are divided into the following groups:
Koalas
Hospital
Reptiles and amphibians
Macropods
Mammals (except macropods)
Birds (except raptors)
Barn
Raptors

Remember: You may find some duties dull or boring but all of the jobs you are asked to do are carried out by our keepers on a daily basis. Not all keeping jobs are glamorous!
For more information or to join the team, please email Lone Pine's volunteer coordinator,
Karen: karen@koala.net
Community content is available under
CC-BY-SA
unless otherwise noted.