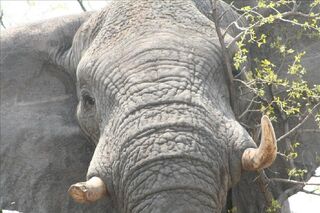 Taken from
Indolovu West Conservation Research
[
]
is a project operated in The Olifants West Private Nature Reserve, a Big 5 area in the Greater Kruger National Park, South Africa.The Project is run by head Researcher and Ecological Manager of the region, Craig Spencer; along with a small team of Researchers and Game Rangers andis operated out of a rustic bush camp deep in the bush; one of only a handful of such camps left in the world. Tasked with conducting research to advise management decision on a number of topical issues- ranging from predator/prey dynamics to elephant dynamics and identification work;the project is also solely responsible for all aspects of Reserve Management; from conducting animal census counts to Anti-poaching Operations. In South Africa, both in the private and government sector; the practise of hunting elephants to subsidise reserve expenditure, under the ruse that there are too many, is an unfortunate reality. Rather than accept this as the norm, Craig and his team have been working on a Best Practise Model for reserves that display that Reserve Managers need not conduct annual elephant hunts as a means to subsidise their reserves. The project creates a truly symbiotic relationship where, on the one end of the spectrum, the project receives income, manpower and expertise from budding ecologists and volunteers from around the world, whereas on the other end volunteers and interns are exposed to real Conservation in the Africa setting; whilst living in a deeply rewarding environment. Located in the 8 800ha Big 5 Olifants West Nature Reserve in the Greater Kruger National Park, South Africa, Paradise Camp is located on a hilltop overlooking a vast wilderness, with the mighty Olifants River two kilometres away.The camp is one of only a few of these wilderness camps that exist in the world-with no fences around the camp animals wander into camp from time to time, from entire elephant herds to lion prides to the nightly visits from the honey badger. A 12 metre high game viewing deck provides a safe vantage point to watch the festivities. Many a night is spent lying in bed listening to the sounds of the Paradise camp resident leopard on his territorial patrol. Interns and volunteers are housed in 5 raised double wooden chalets. These chalets provide a measure of shade and privacy and all have easy access to the game tower and two bathroom areas. At times visitors may be required to share a chalet with another person.Chalets are raised to prevent animals from accessing them and all are equipped with a bed,pillows, duvet and mosquito net. Flushing toilets are provided in our open air reed bathrooms. But please conserve our limited water supply.There is a kitchen area with a small freezer that is run on LPG gas.A thatched wall less office is provided for seating of up to twelve people. This is where all work/ lectures occur.There are no electrical lights in camp; all light is provided by means of paraffin lamps.There is cell phone reception in camp; and communication between rangers occurs via a two-way radio.Charging of various electronic devices is possible via our solar power/power inverter. Cooking is done on an open fire. A small LPG gas stove is available for use when weather conditions dictate.
 These are the some of the ideals of the Best Practise Model; where local researchers, interns and volunteers from across the world band together as part of the Global Community for the singular cause of Conservation.

Intern program
[
]
The aim of the Internship Program is to provide the next generation of Conservationists and researchers with the unique position to gain experience working on a leading Conservation Project in an African reserve alongside the Ecological Manager and Rangers.The Internship Program is based on the perception that we are all Conservationists of a like mind in a Global Community and should operate in a more unified manner by sharing information, techniques and philosophies.Interns will live full time at Paradise Camp and participate intricately in current Research Projects. The Intern Program is created specifically to allow and to encourage exposure to African Conservation Practises and Principles.Interns can be expected to gain experience in field-work by assisting with the compilation of methodologies; data capture and input and will be mentored by Craig Spencer, the Ecological Manager of the area throughout the process. Interns can expect to assist with a variety of projects such as our predator/prey project, which monitors the changing dynamics of lion prides in the area along with what they have killed in terms of age, sex, etc. we also do data capture for save the elephant foundation. depending on what time of year interns are at camp, they can expect to do vegetation surveys, and subterranean water monitoring, but projects like our predator/ prey and elephant monitoring are year round. The final aspect of the Intern Program is for students to simply immerse and enjoy their time in this magical envionment; whilst learning skills, broadening perceptions and exploring philosophies around the campfire. Internships are available from 1 - 6 months. there is a 1 month minimum stay for interns so they have the opportunity to be truly immersed in the work. Additionally there is a fee to cover room and board during their stay, along with airport transfers from Eastgate airport in hoedspruit. the cost of a one month stay as an intern is $2,900 usd. the cost per month for additional months decreases to $2,200 usd for each additional month. please contact us at john@indlovuwest.com if you are interested in interning with indlovu west conservation research. we do have a masters program for students looking for a research station to base their thesis research out of. due to the more intensive nature of the masters program there is added cost, and we can only accommodate one masters student at a time. please contact us for availability and more information on the masters program.
VOLUNTEER
[
]
The Volunteer Program aims to provide the opportunity for anyone interested in Conservation and the African bush to experience a real African Conservation Project by living at a research station with dedicated Conservationists. Volunteers can expect to participate in a variety of game and vegetation monitoring projects in a Big 5 area, such as monitoring our 19 strong lion pride in terms of predator/ prey dynamics; capturing elephant data for the Save The Elephant Foundation and game counts surveys. The Volunteer Program enables people to make a real contribution to Conservation, while experiencing a meaningful African adventure. Volunteers are welcome all year round; we typically require a two week minimum stay from our volunteers, but volunteers can stay with the project for as long as six months. There is a fee to cover room and board, along with airport transfers from Eastgate Airport in hoedspruit. There is a fee to cover room and board during your stay, along with airport transfers from eastgate airport in hoedspruit. The fee for 2 weeks as a volunteer is $1,700 usd. The cost per week for additional weeks does decrease to $700 usd per week. please contact us at john@indlovuwest.com if you are interested in volunteering with indlovu west conservation research.