Taken from
http://www.elephantnaturepark.org/index.htm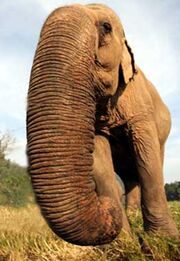 Introduction
Edit
Elephant Nature Park, a unique conservation project set in Chiang Mai Province, Northern Thailand has been in operation since in the 1990's with a goal to provide a sanctuary and elephant rescue center. more
| | |
| --- | --- |
| | Elephantnaturepark.org provides information on elephant conservation projects, general elephant knowledge, traditional local lifestyles, jungle herbs, photographs and multi-media. Find out more about Elephant Nature Park and how it is helping the highly endangered creatures of the area. The site covers the efforts of Lek's conservation projects.While most notable conservationists stem from western countries Lek's projects are the efforts of her own Northern Thailand mountain community. |
Elephant Nature Park is a beautiful natural Animal Haven by forested mountain-sides of Northern Thailand!
Elephant Volunteering Positions
Edit
Operates all year round
Suitable for all ages from Children to Pensioners
Starts every Monday
This section has four parts and is for our Chiang Mai Elephant Nature Park volunteers. Read them all carefully before applying for a position.
You may also like to know about our Journey to Freedom Volunteers. [1]
of
---
Volunteers at the park.

Ever dreamed of giving something back, assisting conservation projects, learning about herbal medicines, getting close to nature, sharing elephant secrets or helping to save endangered species?

If so then the volunteer positions could be just the very thing for you.

Developed by Sangduen Chailert this world project portrays aspects of culture, fauna and flora impossible to experience elsewhere. Positions are suitable for all ages.
Volunteer jobs are varied, from bathing elephants to basic health care. Traveling around the country in a variety of modes, from 4 wheel truck to bamboo raft volunteers will experience local and tribal lifestyles, culture and hospitality.
These activities are suitable for all age groups with a good standard of fitness and health.
| | | | |
| --- | --- | --- | --- |
| | | | |
| Be prepared to travel! | New style of bathing | Meet new people | Interact... |
| | | | |
Positions are for one, two or four weeks. For shorter stays please see our visit the park section.
Positions start at 08:00 from our office on Day 1 (normally a Monday) and finish on Day 7 / 14 or 28 (normally Sunday) around 5pm
---
| | |
| --- | --- |
| [2] | Accommodation at the park! Rustic and in step with our outstanding natural surroundings more |
---
| | |
| --- | --- |
| | Positions are limited so we recommend that you give as much notice as possible. |
More info on positions [next step ]
Animal Volunteer Positions
Edit
---
| | | |
| --- | --- | --- |
| | Elephant care and understanding is what animal volunteer positions are all about! | |
Animal Volunteer positions on offer
Edit
1. Professional Veterinarian
Edit
Position mainly for vets who have completed their studies with 5 or more years of experience with large animals. Tasks will include administering modern as well as traditional medicines under the supervision of a local vet. Additional tasks will include the upkeep of the area. A report on elephant care in the park area and environmental improvement plans is expected at the end of the stay.
2. Elephant Student Vets
Edit
This special category is exclusively for veterinarian students as part of their course-work and is 28 days in length..
3. Elephant Helpers
Edit
This category is suitable for all visitors. Designed for those who wish to work with elephants for the first time and gain knowledge about the local conditions and problems facing elephants in the area. **No previous experience is needed.** Tasks include assisting elephants keepers bathing elephants and general duties around the park and surrounds. Office work may be required of applicants with suitable skills. The maximum initial stay is 14 days (except in the case of trainee vets as part of their course-work) Extensions of stay may be available at the end of this 14 day period if space permits. This is only available at the park at the end our an initial 14 day stay.
Green Volunteer Positions -
Costs & ProgrammesEdit
---
It's not all hard work!!!
This page gives you an idea of what is in store for volunteers. Feeding stray dogs at Buddhist temples, helping other animals in the forest are also often part of the longer term stays.
Insurance: All volunteers must obtain travel insurance and show proof of this at the start of the programme
Accommodation: Traditional huts at the park with showers.
Meals: are included when you are at the park. Supplies are carried from Chiang Mai, or grown locally, and cooked over open fires. There will be a selection of food available with suitable diets for vegetarians, halal, kosher etc.
'Toilet 'facilities: are basic in the jungle with Asian style squat-toilets. Showers are simple bamboo huts with tanks of fresh rain water.
Things to Bring: Waterproof clothing will be necessary in the rainy season, good walking shoes, flip flops etc. Soap bag and changes of clothing. For more info and general advice click here.
Terrain: is varied and may involve long walks. A good standard of fitness is required for these walks.
When your position starts: The program operates throughout the year and starts each Monday. If you cannot make it on this day then we can accept other starting days but please try to aim for a Monday start if possible. Try to arrive in Chiang Mai by 08:00am. Volunteers who arrive after 10:00am go to the project on that day . Later arrivals will join the other volunteers at the site the following day after a night in Chiang Mai city at their own expense.
Elephant Volunteer Program
Edit
Elephant volunteers activities include some or all of the following;
Area Introduction and meeting with the staff and mahouts
Learn about elephant communication
Experience Elephant Families and how the choose friends
Find out about the problems facing elephant in Thailand today
Discover how Elephant Nature Park is helping
Feed and bathe elephants.
Identify the secret life of the elephants in their natural habitat.
Learn about elephant disease and how they are treated when sick.
Meet volunteers, visitors and park staff from around the world.
In some cases volunteers may be required to look after our recent rescues and may be sent to different areas. All volunteers are required to help with household chores and cooking. Details given at the time of application.
Volunteers will assist in a variety of tasks concerned with elephant care.
What's provided:

Edit

Accommodation during your time with us.
Transportation to/from the park
Meals will be provided at the park and during any park organized excursions.

Rates per person;

Edit

Are set at 12,000 Baht per week. This helps pay for transportation, lodging, food and, of course, elephant care.

Health Care: Visit your doctor and tell him that you are going to visit an area of Thailand that is close to the border or Burma (Myanmar). You will be visiting area's where, although rare, there have been isolated reported cases of malaria. Be prepared. Good quality, inexpensive medicinal drugs can be easily purchased in Thailand.

Groups are kept small and positions are often full. Please try to give exact dates whenever possible.

Extensions

Edit

The initial maximum two week course may be extended depending on availability and suitability. Any decision of extensions will be made at the end of your stay with us.

Procedure.

Edit

A deposit/processing is required at the time of booking which will be deducted from the total due for successful applicants. Details will be sent to you after your application is received.
Volunteer Positions -
ApplicationEdit

Volunteers

Info

of
---
Please make sure you have have read all previous three pages of this volunteer section before applying. Read this section *very* carefully before applying!
Volunteer Applicant Conditions:
Edit
Volunteers must be 18 or more years old unless accompanied by a parent. Children are welcome at Elephant Nature Park, but persons under 18 years must be accompanied by a parent or legal guardian. Parents/legal guardians are responsible for their children's well-being and whereabouts at all times.
Volunteers should arrive at our office by 08:00am on the first day. If flights or other connections do not permit then you may go to the park the following day and stay in Chiang Mai that night. (at your own expense). Please make your way to our office - directions available in our reply during the booking process. Remember positions start on Monday's. If it is absolutely impossible for you to start on a Monday we will do our best to accommodate you.
You should have a confirmed (not necessarily paid for) international flight to Thailand prior to applying. Only book the period you are sure you are going to stay. i.e If you book for two weeks then you must pay for two weeks even if you leave early.
A deposit (per volunteer) is required prior to arrival with the balance payable when your start your position. Please arrange the required deposit via our secure server after you receive approval of your application. We cannot accept this at the time of arrival. If you have to change dates, more than 60 days prior to your accepted arrival date, this can be applied to your position (requires a fee of 1,000 Baht per date change). Applicants changing dates within 60 days of arrival may have to apply again. (Positions are very limited and we have to turn new applicants away when we are fully booked). Only one change is possible. All payments are non-refundable.
Transport to/from the park will be provided from Chiang Mai city. Airfares to Thailand and Chiang Mai are not included.
All above positions require 6 days of work per week from 07:00 until 17:00 with extra hours often required. Simple accommodation will be provided as will food (three meals per day). Contribution fees for these positions depend on length of stay and position. Extensions are possible, if there is space, at the end of your stay. This decision can be made only at the project. Elephant Nature Park makes no guarantees that volunteer positions, day visits and overnight trips will proceed as described within our website (or in any other description of events, timetable, or schedule) depending on local conditions, emergencies, and animal behavior any given day.
Volunteers must be able to work within your team, use your initiative, follow instructions from our full time staff, be flexible, co-operative, friendly and demonstrate a willingness to work long hours. You must also respect local customs, laws and dress appropriately. (In Thailand this means conservative dress; more details given when you start). Volunteer positions are not tour programmes and cannot be treated as a holiday. You must be able to work with us and others. We reserve the right to terminate any volunteer position, at any time and without refund, should the volunteers performance prove unsatisfactory. (By following the above criteria, this should not concern you in the least.)
While at the Park you are permitted to take photos, video and audio recordings for your own personal use. Elephant Nature Park holds the commercial copyright on all media recordings taken at the Park. You must obtain written permission from Elephant Nature Park if you wish to take any photos or film for distribution or resale.
All visitors to Elephant Nature Park, visitors accept that they are solely responsible for their own health, safety and belongings and that they fully understand and accept the conditions outlined above. All visitors are required to sign a disclaimer and emergency contact info before entering Park property.
The maximum initial stay is 14 days (except in the case of trainee vets as part of their course-work) Extensions of stay may be available at the end of this 14 day period if space permits. This is only available at the park at the end our an initial 14 day stay.
See you there!

We are offering you a life enhancing opportunity of direct hands on conservation work in an internationally celebrated conservationist in a unique programme to help protect a highly endangered species. Most volunteers leave with a proud sense of accomplishment and a deep satisfying feeling of having really done something positive.

Elephant Nature Park volunteer application

Edit
One form per each applicant please

I accept the conditions above and apply for a position as

Professional vet
Elephant Student Vet [28 days - Trainee vets only]
Volunteer Elephant Helper [7 or14 Days]
(suitable for most applicants)----Volunteer Elephant Helper [7 or14 Days]
** (for families and groups with children and/or infants -
To qualify children must be under 12 years old and
infants under 2 years old at the time they volunteer with us)
Community content is available under
CC-BY-SA
unless otherwise noted.