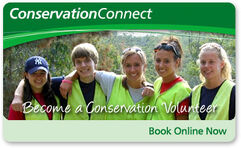 Australia
Edit
Conservation Volunteers has a variety of conservation and environmental projects based in Australia. Many involve habitat restoration and maintenance although some are more hands on with animals. Commitments start at one day and there is a handy on line booking service.You can search for flora and fauna projects if you are specifically interested in working with animals.Projects with animals regularly change but have included sea turtles, whales, small australian mammals including eastern barred bandicoots, birds, lizards.
The booking/search service can be reached here
There are links to projects overseas here
http://www.conservationvolunteers.com.au/volunteer/world-conservation.htm
Costs range from free to pay cost volunteering
More info
Edit
The following information is from their website
http://www.conservationvolunteers.com.au/
Conservation Volunteers is a national, not-for-profit, community based organisation that is dedicated to involving both local and overseas volunteers in conservation projects for the betterment of the Australian and New Zealand environment. Each year approximately 10,000 volunteers (2,500 of whom are from overseas) are engaged on over 2000 projects. By becoming a member of the Conservation Volunteers team, you will be using your particular skills to enable this wonderful work to continue.
Community content is available under
CC-BY-SA
unless otherwise noted.