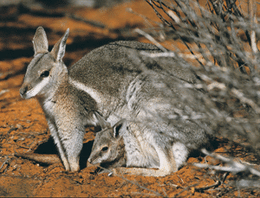 This information is taken from the following website
http://www.australianwildlife.org/Home.aspx
What Does AWC Do?
[
]
Establishing Sanctuaries
[
]
AWC acquires land, and works with other landholders, to establish sanctuaries for the conservation of threatened wildlife and ecosystems. AWC now owns 20 sanctuaries covering 2.5 million ha (6.2 million acres) in places such as north Queensland, the Kimberley, western New South Wales, Northern Territory and the forests of south western Australia.
AWC aims to ensure that its sanctuaries act as 'catalysts' for broader landscape scale conservation efforts. Accordingly, AWC works closely with its neighbours to also promote conservation beyond the borders of each AWC sanctuary.
Implementing Practical, On-Ground Conservation Programs
[
]
AWC is distinguished by its extraordinary commitment to the implementation of practical, on-ground conservation programs. Over 80% of AWC's staff are based in the field where they implement programs including feral animal control, weed eradication, fire management and translocation of threatened species. A commitment to such programs is critical if the biodiversity on AWC sanctuaries is to be effectively protected.
Conducting Scientific Research
[
]
AWC works in partnership with universities, museums, the CSIRO and a range of other science organisations to conduct strategic research on key issues affecting Australian wildlife. For example AWC has PhD students undertaking research projects at Mornington, Faure Island and Scotia sanctuaries.
Public Education
[
]
AWC hosts visitor's programs at some of our sanctuaries to promote public awareness of the plight of Australia's threatened wildlife. This includes a program of school visits at Yookamurra and Karakamia sanctuaries.
Thinking about Volunteering?
[
]
Australian Wildlife Conservancy is a non-profit organisation dedicated to the conservation of Australia's threatened wildlife. AWC now owns and manages 21 properties covering more than 2.5 million hectares around Australia. Volunteering provides an exciting opportunity to assist AWC's dedicated field staff in saving Australia's endangered wildlife.
Volunteering opportunities exist across a broad range of activities. These can range from biodiversity surveys to on-going land management work.
Select events will be advertised through the year – generally those requiring groups of volunteers, specific skill-sets or an extended commitment of time.
On-going volunteering opportunities can be arranged with individual sanctuaries where a volunteer program is currently in place.
If you are interested in volunteering, please complete a volunteer application and follow the instructions below on How to Apply. The more information you can provide about your interests, skills and timing (availability length and dates) the better chance we will have in matching you with a suitable opportunity.
How To Apply
[
]
Please complete the Volunteer Application Form and return to:
Email: volunteering@australianwildlife.org Fax: +61 8 9380 9631
Mail: PO Box 8070, Subiaco East WA 6008
Upcoming volunteering opportunities
[
]
Select volunteer opportunities will be advertised throughout the year. We will email volunteers, with relevant skills and an interest in the sanctuary with the advertised opportunity, who have submitted a volunteer application form, but kindly request you check back on this page regularly as this is not currently an automated process.
Please note that there is generally a high demand and limited places for these opportunities, and we will do our best though we appreciate your interest and support.
Eyre Peninsula survey - Malleefowl, Southern Hairy-Nosed Wombats (5 July 2010 start: approx 3 - 4 weeks)
[
]
Pitfall trapping and setting up survey sites at Dakalanta Wildlife Sanctuary
Dakalanta Wildlife Sanctuary comprising 13,000ha is situated between Lock and Elliston in the northern region of South Australia's Eyre Peninsula. Dakalanta occurs in an area of low relief, and is dominated by rolling hills and stabilised sand dunes.
Approximately a quarter of the property has previously been cleared for pastoral activities. The current primary focus of management at Dakalanta is the facilitation of natural regeneration of previously cleared areas.
Little is known about the flora and fauna of Dakalanta. Help us in the collection of such information, to assist in setting management priorities. Dr Kerryn Herman, Wildlife Ecologist, requires volunteers (minimum 1 week each) to assist with establishing survey sites, as well as undertaking bird surveys and Southern Hairy-Nosed Wombat counts.
Digging pitfall traps will require a high level of fitness. This volunteer opportunity is suited to volunteers who are use to remote field work.
Accommodation will be camping only, and base camp will be a shed with gas-cooking facilities. There is no infrastructure at Dakalanta so no showers and only pit-fall toilets [if we can dig through the calcrete!]. Volunteers will be required to bring their own water, food and bedding/accommodation for the duration of stay. The nearest town is 40km away, so purchasing additional food and showers will only be accessible on a weekly basis.

This is an opportunity to gain field experience and join AWC in gathering data on the flora and fauna of Dakalanta. To apply please follow How To Apply instructions – tick the box Other (specific event) and quote event code: DAK0710. Places are limited.

Home Tutoring at Marion Downs, Central Kimberley (Ongoing throughout 2010)
[
]
Assist children living in a remote area with their home schooling and spend time at Marion Downs Wildlife Sanctuary.
The 289,000ha Marion Downs Wildlife Sanctuary is a former pastoral property located in the Central Kimberley that was purchased by Australian Wildlife Conservancy (AWC) in 2008. Marion Downs is a hotspot for the wildlife of the Kimberley and is home to more than 30 species of mammals, over 180 bird species, 20 frog species and 75 reptile species.
AWC staff member Lindsay Malay and his young family live and work at Marion Downs. In 2009, AWC and the Malay family established a School of the Air program for their children Sally, Helena and LJ. This year, Sally and Helena have moved to Victoria to undertake schooling, but their younger brother Ralph now joins LJ on the daily School of the Air sessions. The Malay's are seeking people with experience in teaching to volunteer their assistance by home tutoring Ralph and LJ in conjunction with the School of the Air program.
Marion Downs is fairly remote (by road it lies about 460 km (approx 8 hours drive time) southwest of Kununurra or 540km east of Derby and is reached by the unsealed Gibb River Road and the Tablelands Track). Therefore this position is ideally suited to volunteers who have remote travel and camping experience (environmental and safety considerations). An attractive campsite can be made available beside the Wood River. Couples welcome.
Please follow How To Apply instructions – tick the box Other (specific event) and quote event code: MD0310.
Anybody interested in this opportunity will also be asked to register through REVISEWA (Retired Educator Volunteers for Isolated Students Education). REVISEWA have the capacity to provide travel assistance and ensure participants are appropriately registered and have necessary references and clearances.
The 'B' Team: Bilbies, Bridled Nailtail Wallabies & Bettongs (7 - 25 June 2010)
[
]
Spot-lighting transects to gather population estimates at Scotia Wildlife Sanctuary
Scotia Wildlife Sanctuary is situated in the far south western plains of New South Wales, approximately 150km south of Broken Hill, adjacent to the South Australian border. The sanctuary is 65,000 ha in size, and located within the Murray Mallee sub-region of the Murray Darling Depression Bioregion.
At Scotia, AWC is undertaking one of the world's most ambitious biodiversity reconstruction projects: the reintroduction of 6 threatened mammal species into the wild: Woylies, Bilbies, Numbats, Bridled Nailtail Wallabies, Boodies and Stick-net Rats. Amidst the Mallee, sand dunes and Spinifex, AWC has established the largest feral predator-free area on mainland Australia. An update on the success of this program is available on our website news section - Scotia: Saving six of the world's rarest mammals from extinction.
Dr Kerryn Herman, Scotia's Wildlife Ecologist, requires 2 volunteers (minimum 1 week each) to help out with spot-light transects in Stages I and II. The surveys will gather critical data to assist with estimations of Bilbies, Bridled Nailtail Wallabies and Bettong species in the reintroduced populations. Volunteers will drive around the sanctuary from sunset to 10pm each night (approximately 4 hours) and will need to have good eye sight. It can get quite cold so bring warm clothes. Accommodation will be provided, but volunteers will also need to provide their own food and bring bedding for the duration of their stay.
To be part of this exciting program, please follow How To Apply instructions – tick the box Other (specific event) and quote event code: Sc0610. Places are limited.
Buckaringa Ranger Program
[
]
At Buckaringa Wildlife Sanctuary, AWC are seeking people to join our Volunteer Ranger Program. Volunteers are usually required for 3 weeks or longer if possible.
Click here for more information on the Buckaringa Ranger Program.

Other
[
]
More>> Scotia Volunteering Page
More>> Buckaringa Volunteering Page
More>> Employment