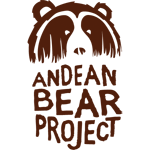 This information is taken from
Introduction
Edit
The Andean Bear Conservation Project is a project of the Andean Bear Foundation, and is based in Ecuador. Our goal is to save the Andean Bear, Tremarctos ornatus, from extinction through in-field scientific studies and through the rehabilitation and release of captive bears.

We monitor both wild and reintroduced bears, by direct observation and through the use of radio tracking equipment. Our aim is to improve human understanding of these gentle creatures by collecting data on their environmental requirements, home ranges, preferences and use of habitat.

Time is running out for the Andean Bear. The tranquil cloud forests of the Andean mountain ranges, where these bears live, are rapidly disappearing. Without a better understanding of the bears' needs there is no way to implement a strategy for their conservation, protection and survival.

We need your help! We are currently the major organisation in the world tracking Andean Bears with radio equipment. The information we are gathering is vital to their survival. Despite this we are a small, grass-roots operation with little funding. We depend on volunteers and donations to survive. Without your support we cannot continue this critical work. You can help by buying from our Andean bear gift store.
Bear Research
Edit
Bear research: Andean bears are an endangered species vulnerable to extinction and there are thought to be fewer than 20,000 wild Andean or spectacled bears. Little is known about the species, compared to the other types of bears. This project is researching wild Andean bears with a field study in the Intag region of Ecuador to establish the size of the bears' home ranges and understand more about their use of habitat.


Bear Capture & Tracking - this research project captures and radio-collars Andean bears to track their movements and understand more about their needs, in order to produce an effective bear conservation plan.
See more about how we capture and track bears.

Project Results - as a result of our field studies and research, more is now understood about the space and conditions that Andean bears need to survive - information vital for conservation.
See more about the Andean Bear Conservation Project Results.

Research Interests - there is still much to learn about the Andean bear and there are research opportunities for PhD and Masters students with the project.
See topics for Andean bear research opportunities.

Bear Papers and Links - Andean bear articles and publications published by this project in English and Spanish. Links to our partner projects and other bear research initiatives around the world, not just for Andean bears but for other bear species as well.
See the list of Andean bear papers published and links to other bear websites.
Bear Conservation
Edit
Bear conservation: Andean bears are an endangered species listed by the IUCN Red List as vulnerable to extinction and there are thought to be fewer than 20,000 wild Andean or spectacled bears. In order to save the bears, we work in several different aspects of bear conservation.

Bear Rescue is unfortunately necessary when local people illegally take bears into captivity - usually cubs orphaned when their mothers are shot. By rescuing these bear cubs we not only save them from a life of captivity but also return them to the breeding population in the wild to help with conservation of the species as a whole.
Find out more about Andean bear rescue.

Bear Rehab & Release - when possible we rehabilitate and liberate rescued Andean bears so that they can go on to breed and strengthen the genetic diversity of this endangered bear species.
Find out more about the rehabilitation and release of Andean bears.


Community Involvement - wildlife conservation has to include the local community if it is to be effective, so we work with communities living in bear country to encourage them in habitat conservation and protecting the bears.
Learn more about community involvement in bear conservation.

Bear Sanctuary - we rehabilitate and release rescued Andean bears when possible, but not all are suitable for this process so we are raising funds for a Bear Sanctuary in which to care for and study bears too old, ill or disabled to liberate.
Find out more about our plans for an Andean Bear Sanctuary.

Zoo Bears - there are wildlife parks and zoo bear exhibits around the world where spectacled bears are on display, and some of them participate in the Species Survival Plan, breeding bears to maintain a captive population.
Find your nearest Zoo Bears.
Volunteer
Edit
Volunteer with the Andean Bear Conservation Project to help save the Andean Bear from extinction. Wildlife volunteers can help with field data collection or there are volunteer opportunities to teach abroad for community education.

Conservation Volunteers can help with radio-tracking Andean bears and searching for hair samples for genetic analysis, all this amongst the beautiful scenery of the Andes mountains. A great volunteer experience for keen walkers, would-be wildlife technicians, student biologists and anyone with an interest in the conservation of wildlife, biodiversity and the environment. See how to apply as a conservation volunteer.

Biology Internships - experiencing the reality of conservation biology in the field could count as an internship if you are studying biology, environmental science, ecology or wildlife management. Biology interns (or those studying ecology, environmental management or similar topics) can gain valuable field experience on a respected research project. Find out more about biology internships on the Andean Bear Project.

Teaching Assistants - volunteer to teach or help the teachers in a local school as part of the community education aspect of conservation. Teaching English, environmental education or just helping out in the classroom with whatever is needed will all make a difference. Qualified teachers especially welcome, but anyone who speaks Spanish can help as teachers´ assistant. Learn more about volunteering as a teaching assistant or teacher.

Photographer & Filmmaker Volunters - as a documentary maker, wildlife photgrapher or film camera-man/woman, you could help save the Andean bear from extinction. See if you qualify as a film maker or photographer volunteer.

Mural Artist Volunteers - if you have artistic talent, your wall paintings could help raise awareness in local communities in Andean bear country. Find out how to apply as a mural artist volunteer.

Volunteering FAQs - this section will answer some of the more common volunteer questions such as when is best to volunteer, who can volunteer and more.... Read answers to Volunteering FAQs.

Volunteers´ Pictures - photos from our volunteers of various aspects of volunteer life here at the bear project, from the hard work of cage-carrying to the fun of campfires. Many thanks to our photographer volunteers for allowing us to share the¡r images of volunteering. See volunteers´ pictures.

Volunteer Opportunities often book up months ahead, so see our calendar for an idea of when there are volunteer placements available and look out here for any last-minute oppportunities to volunteer. Check the Volunteer Opportunities Calendar.
Contact Us

For general information on our work please contact: info@andeanbear.org

To volunteer please contact: volunteer@andeanbear.org

We are in the process of changing our mail address. The temporary address for correspondence is:

c/o Colleen Pawling, 1267 Harbert Avenue #2, Memphis, TN 38104, USA
Staff

Armando Castellanos (Project Manager) email: armando@andeanbear.org
Alberto Tabango (Field assistant in Intag)
Gustavo Tapia (Field Assistant in Ecuador)
Samuel Ayala (Field Assistant in Intag)
Celia Tabango (Cook and "Volunteer Mum")
Koda (Bear Tracking Dog in Training)
Veterinary Services
Dr. Leonardo Arias
Volunteer Staff
Fernando Cobo (Yanahurco´s Coordinator)
Colleen Pawling (Rehabilitation Coordinator) Francisco Castellanos (Volunteer Coordinator) Daniel Zwolenski (Technology Officer)
Community content is available under
CC-BY-SA
unless otherwise noted.