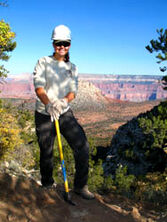 From
http://www.usaconservation.org/index.html
Introduction
[
]
American Conservation Experience is a non-profit conservation corps offering opportunities for both American and International volunteers to take part in challenging outdoor projects in many of the most beautiful National Parks, National Forests and wilderness areas in the Western United States. We are an affiliate member of The CorpsNetwork.
With housing based in Flagstaff, Arizona, and Santa Cruz, California, ACE crews attract energetic long term volunteers dedicated to spending 12 weeks or longer helping to restore America's natural treasures.
ACE is designed to offer extremely inexpensive volunteering opportunities for participants eager to contribute 40 hours of determined effort each week in exchange for housing and food on projects.
Volunteers seeking a standard eco-tourism experience or mostly interested in learning English should look elsewhere. Those seeking a challenging position among positive, diverse, like-minded volunteers serving in the United States' only international conservation corps are encouraged to read on and apply.
What We Provide
[
]
[1]ACE volunteers contribute their effort in exchange for free housing at all times (individual tents during project and student style accommodations in Flagstaff, Arizona and Santa Cruz, California during off days), food during projects (cooked as a group), transportation to and from project sites, and an opportunity to volunteer and explore some of the most spectacular scenery on Earth.
Arizona
[
]
If you arrive at Phoenix, before 6 PM on certainProgram Start dates, transportation will be provided from Phoenix to Flagstaff. If you arrive on any other time or dates, you will have to take the bus to Flagstaff yourself.
California
[
]
If you arrive at San Francisco before 6 PM, or San Jose before 8pm on certain Program Start dates, transportation will be provided from the airport to Santa Cruz. If you arrive on any other time or dates, you will have to take the bus to Santa Cruz yourself.
What We Expect From A Volunteer
[
]
[2]To ensure you of a good time, and us of a volunteer of the standard we guarantee our project partners, it's important that you know what is expected of an ACE volunteer. Make sure to read through the following carefully BEFORE you sign up:
You are the ideal volunteer if:
[
]
You truly enjoy exerting yourself on meaningful projects in beautiful locations and like a challenge
You are an orderly person who likes to keep your housing clean
You are the type of person who stays positive and enthusiastic through less than perfect situations, and believe that a positive attitude means everything
You have a sense of responsibility
You are flexible and able to adapt to sudden changes in plans
You feel you have no problem understanding and expressing yourself in English
You are a fit person between 18-35 years
Do NOT apply if:
[
]
You are looking for a cheap vacation. This is not a holiday
Your main reason to join is to learn/improve your English. You must have at least advanced intermediate English
You expect to choose your own project (ACE rotates your projects every 4 weeks and it is not possible for you to decide where to go)
You are not physically fit, able to hike long distances with a heavy backpack and exert yourself for 10 hours a day in extreme weather conditions
You are a messy person who does not clean up after yourself in the housing, but rather expect others to do it for you
You can't share the responsibility of taking out garbage, cleaning the common areas (bathrooms, kitchen, backyard) and instead reason that someone else will do it
You are a negative person who finds things to complain and whine about, and try to get others to see the negative aspect along with you
You are aged under 21 and want to drink alcohol within the USA. It is very important to understand that the legal age to drink alcohol in the USA is 21 years. This law is strictly enforced so that nobody under the age of 21 may even enter a pub or bar, even if they are not drinking alcohol.
Frequently Asked Questions
[
]
[3]Participation in ACE represents a unique opportunity to share new learning experiences with people from other cultures while contributing substantially to the restoration of America's natural treasures. Please read the following list of frequently asked questions carefully to ensure that you understand the program well enough to take full advantage of the experience of volunteering with ACE.
How long can I volunteer for ?
How much money should I bring ?
How many days per week are the projects ?
What to do during your free time ?
What are the accommodations between projects ?
What are the accommodations during projects ?
Are there any physical requirements ?
Do I need any previous conservation experience ?
How long can I volunteer for ?
[
]
Individuals are welcome to volunteer with ACE anywhere from 12 weeks to 6 months or longer. (back to top)
Volunteer Program Dates 2011: Arizona and California
[
]
Below are the starting dates for ACE Arizona and California in 2011. Those are the dates we prefer you to arrive in Flagstaff, Arizona or Santa Cruz, California.
Please note that the dates with an asterix (*) DO NOT offer pick-up in Phoenix, San Francisco or San Jose. You will then instead take a bus to Flagstaff or Santa Cruz from the airport. Read more about the buses here.
The minimum participation period is 12 weeks, with the exception of October 8th and 22nd 2011(see list below).
Start dates for 2011:
[
]
January 15, January 29,
February 12*, February 26
March 12*, March 26
April 9, April 23*
May 7, May 21,
June 4, June 18*
July 2, July 16, July 30
August 13*, August 27
September 10*, September 24
October 8* (8 or 9 weeks only), October 22 (7 weeks only)
Visa Information
[
]
[4]In order to come and participate in ACE, anyone who is not an American citizen will need to apply for a B1-visa, unless your country is part of the Visa Waiver Program. (Canadians are excluded from this rule, as they are not part of the Visa Waiver Program, but they still don't need a visa to enter the United States.)
If you are from a country that is part of the Visa Waiver Program, you do not have to apply for anything. Once you enter the U.S. they will stamp your passport with 90 days, and they will give you a card called an I-94. It is extremely important that you keep this card in a safe place, as you will need it to exit the country again. You must leave the United States 90 days after you arrived, or earlier.
It is important that you understand that neither the Visa Waiver Program nor the B1-visa allows you to make any money in the U.S. Earning money without the proper visa is a felony.
The 27 Visa Waiver Program countries:
Andorra
Australia
Austria
Belgium
Brunei
Denmark
Finland
France
Germany
Iceland
Ireland
Italy
Japan
Liechtenstein
Luxembourg
Monaco
New Zealand
Norway
Portugal
San Marino
Singapore
Slovenia
Spain
Sweden
Switzerland
The Netherlands
United Kingdom
If you have any questions, email Kazuko at kazuko@usaconservation.org
Bus and Train Times
[
]
Arizona
[
]
If you arrive at Phoenix Airport you have two choices to get to Flagstaff:

1) Arizona Shuttle is connecting Phoenix to Flagstaff. Their last shuttle leaves the airport at 9.30pm. They have a counter at every terminal, near the baggage claim, where you can buy your tickets or you can book it online or via phone. A ticket for one adult to Flagstaff is $39 ($35 if booked online) one-way.

2) Greyhound Bus. If you're coming later than 9:30pm you can catch the Greyhound Bus. The bus leaves at 11:30 pm and arrives at 2:15 am in Flagstaff. The Greyhound Bus Terminal is one mile away from the airport and you can take a local bus($1.25) to the Greyhound terminal. The bus ticket is usually around $25-$30.
These bus times may change according to the season so please make sure to check the bus companies website before you arrive in Phoenix.
California
[
]
It is quite convenient to take the train from San Francisco airport to Santa Cruz. The trip costs approximately $14 in total and takes about three hours. Take 'BART' from the 'SFO BART Station' to the 'Millbrae BART STATION' (approximately $2, takes 6 minutes, runs every 20 minutes). Transfer to 'Caltrain', and go Southbound to 'San Jose Diridon Station' (approximately $6, takes about 70 minutes, runs every 1 hour). Take the 'Highway 17 Express' from 'Diridon Station' to the 'Santa Cruz Metro Center' (approximately $5, takes 65 minutes, runs every 1-2 hours).

If you arrive in San Jose Airport, you can take the "Highway 17 Express" as written above. To get to 'San Jose Diridon Station,' from the airport Terminal A: Take VTA Bus #10 to the Metro/Airport Light rail stop (there are two #10 buses. One is for Metro/Airport, the other is for Santa Clara). There is a stop for the #10 outside of Terminals A & B. Look for the signs. Cross the street and go to the Light Rail platform on the right towards Winchester. There are ticket machines on the platform. You want a single ride pass ($2.00). (There are two trains that come through here regularly; Santa Teresa and Winchester.) Exit the train at San Jose Diridon Metro Center (about seven or eight stops down) Upon exiting the train itself, go right, cross over the tracks through the gate and walk through the tunnel all the way to the end. There will be a sign that points to the buses up the ramp. Go up the ramp and outside. The Highway 17 Express is the first sign you come to.

If you arrive in Oakland Airport, you can also get to 'San Jose Diridon Station' by taking trains/buses. First, take 'Air BART' from the airport to 'BART Coliseum'(approximately $2, takes 15 minutes, runs every 10 minutes), then take 'BART Fremont train' to 'BART Fremont' (approximately $4, takes 25 minutes, runs every 15 minutes). Then walk to South corner of the BART Fremont, and take 'Santa Clara VTA Bus #180 Express/San Jose' to 'Cahill Caltrain Station'(approximately $4, takes 1 hour, runs every 20 minutes to 1 hour), then take the 'Highway 17 Express' as written above.
What are the costs involved ?
[
]
To join ACE, everyone needs to pay the booking fee to their respective booking agency (see Registration). The only exception to this is Americans who apply directly and pay no fee for the program (see American Registration). ACE provides housing, transportation, tools etc., and food during work days. The minimum stay is 12 weeks. The volunteer pays for their insurance and travel expenses. We recommend that international volunteers who need an insurance contact www.overseashealth.com and American volunteers should contact www.bestshorttermplan.com(back to top)
What do I need to bring ?
[
]
These are items you MUST bring on every project:
Sleeping bag (rated to WELL below the freezing point)
Medium-large sized backpack (3,000 cubic inches/50 liters or larger)
Thermarest or comparable sleeping pad
Hiking boots or work boots (they must end above your ankles)
Long pants (blue jeans or Carhartts)
Water resistant rain jacket and rain pants (you MUST bring this on every project)
TRAVELER'S HEALTH INSURANCE (You will not be permitted to volunteer without traveler's insurance)
Pullover, sweatshirt and other warm clothing. Do not make the mistake of bringing only summer clothing unless you intend to buy warm clothes in Flagstaff
Daypack (this means a smaller backpack to bring during your work days. You'll put your lunch, water and whatever else you'll need during the day in it)
Recommended Items:
Polarized sunglasses
Sports sandals (very reasonably priced in Flagstaff and invaluable on hiking excursions in canyons)
Swimsuit
Running shoes or tennis shoes
Headlamp (makes camping at night much easier)
Lunchbox (keeps your food fresh and intact)
Please keep in mind that you will have free time on the afternoon the day after your arrival to shop for camping supplies and personal items in Flagstaff. As a destination for outdoors enthusiasts, Flagstaff has several excellent stores selling camping equipment at very reasonable prices and it may be cheaper and easier for you to buy many of your camping supplies after your arrival in Arizona. (back to top)
How much money should I bring ?
[
]
This is our most common question and a difficult one to answer because most people have different spending habits. If you plan to cook in the house, don't spend a lot of time downtown, and don't plan on taking a lot of road trips, you can easily get by on $50 per week. If you will rent cars and take road trips to places like Vegas, LA, San Diego, or San Francisco most off periods, count on spending closer to $150 per week. And if go out a lot, plan on at least $200 per week. This does not include initially purchasing your sleeping bag, backpacks, sleeping pad, work boots, etc. (back to top)
How many days per week are the projects ?
[
]
Projects typically last for 4 days a week, up to 10 hours a day. This schedule allows for 3 days off per week for exploration at the Grand Canyon, Las Vegas (4.5 hours away by bus), Lake Mead, Lake Powell, San Francisco, relaxation and participation in cultural events. Please note that some projects involve a great deal of travel, in which case volunteers will participate for 8 consecutive days and then enjoy 6 days off before the next project. There may occasionally be projects that last from 3-6 weeks, where you will enjoy your days off on a different location than Flagstaff or Santa Cruz. ACE will help organize outings, lead group hikes in remote canyons, and organize cultural and educational events in order to help participants make the most of their time in Arizona and California. (back to top)
What to do during your free time ?
[
]
ACE volunteers enjoy 3 days off every week. One of the benefits of ACE is the ability to use this time to travel with new friends, explore endless beautiful areas, and to socialize with other volunteers from the US and from around the world. However, it is very important to understand that the legal age to drink alcohol in the USA is 21 years. This law is strictly enforced so that nobody under the age of 21 may even enter a pub or bar, even if they are not drinking alcohol. We understand that the USA is perhaps the only country in the world with such strict rules about alcohol and that this fact can be shocking to foreign volunteers. If you are under21 and do not want to spend 3 months without drinking alcohol, unfortunately you will not be able to participate in ACE. But we fully expect that the type person interested in volunteering for the National Parks will enjoy plenty of recreational activities not involving alcohol.(back to top)
What are the accommodations between projects ?
[
]
Volunteers stay in either student apartments or one of the volunteer houses in Flagstaff or Santa Cruz, on days when they are not taking part in projects. The apartments have washer/dryer, and the houses have a laundromat just a few blocks away. Housing is communal, with up to 3 bunk beds per room and shared kitchen and bathroom facilities. This is where volunteers store the luggage they're not bringing on projects, such as suitcases and sport bags. There's also a safe in the office for passports, tickets and other smaller valuables. (back to top)
What are the accommodations during projects ?
[
]
Most projects are in remote locations and virtually all involve camping. Volunteers should bring warm sleeping bags and sleeping pads to use during projects. Most projects are in remote locations without any developed facilities such as showers or toilets. However, occassionally we stay at developed campgrounds with warm showers and pit toilets. (back to top)
Is food provided ?
[
]
Food is only provided on projects. When ACE volunteers are on projects they shop and cook with their teams, taking turns preparing meals for the group from their respective countries (this alone represents a sometimes comical, always rewarding, cultural exchange). (back to top)
Is there an age limit ?
[
]
Yes, we do not accept anyone under the age of 18. (back to top)
Can I choose my projects ?
[
]
Not exactly. ACE will assign volunteers to rotating projects each week. ACE offers a wide range of projects and volunteers will be rotated every 4 weeks, but you cannot choose your project. Since all ACE projects are outdoors and the weather can be unpredictable at any time of the year, project descriptions are always subject to change. Projects are dependent on weather, nesting and migrating seasons of native wildlife, immediate needs of project partners, etc. ACE volunteers should study the list of future projects to get a GENERAL idea of the type of situation they will be encountering, but should not expect these to be the exact projects. Friends and couples that come to ACE together should keep in mind that they cannot count on ending up on the same projects, or even have their days off at the same time. (back to top)
Are there any physical requirements ?
[
]
Projects will be in the outdoors in all types of weather. Extensive hiking is often involved, sometimes in extreme conditions such as elevations above 9,000 feet (3,000 meters), 100 degree heat, freezing temperatures, steep terrain, rainstorms, high winds, etc. Volunteers should be generally fit, comfortable with living outdoors and flexible enough to enjoy the challenges presented by fickle weather conditions. There is no upper age limit for ACE volunteers although reasonable fitness is definitely a necessity. Due to the high elevations and the rigor of the tasks involved, ACE is NOT recommended for individuals with respiratory problems such as asthma. (back to top)
Do I need any previous conservation experience ?
Volunteers need no experience in practical conservation. The only requirements are a sense of adventure, a desire to make a difference, and a willingness to remain flexible and positive through ever changing project work, locations, and weather conditions. (back to top)
International Registration
[
]
Please read all information below before proceeding with your registration.
I understand the following important points:
I will not be paid to participate in American Conservation Experience projects
The airfare and travel to the commencement point at American Conservation Experience offices in Flagstaff, AZ or Santa Cruz, CA, are not included
ACE provides food during project days, hostel-style accommodation, and project related transport
I will not be able to choose the exact projects I participate in
I have personal medical insurance (you are also advised to have travel insurance for personal items while in America)
Drugs and alcohol are not permitted on American Conservation Experience projects
American Conservation Experience does not supply or administer medications
Please do not apply without first reading through the Volunteer Information pages
FEES
[
]
ACE works through partnerships with recruitment agents around the world. Each agent charges a fee to cover the cost of avertising for our program. Please see below to find the agent for your country. Unless you're an American applying directly, there will be a fee for you to pay to your booking agency. Volunteers are also required to arrange their own transportation to Flagstaff, Arizona, or Santa Cruz, California, have traveler's insurance for the duration of their stay, and to bring warm sleeping bags, as Flagstaff and many of the project locations are at high elevation and can be surprisingly cold at night (even in the summer). Most importantly, volunteers must bring a strong sense of adventure, a positive attitude and an open mind.
To register for either ACE Arizona or ACE California please contact the booking agent for your country.
[
]
Job Title

ACE Flat-Tail Horn Lizard (FTHL) monitoring internship, BLM CA

[

]

Reference
(Environment Jobs/StopDodo.com)
Sectors
Ecology, Forestry, Conservation
Community and Youth
Planning & Landscaping

Location
California
Salary
$110/week or $140/week + Housing
Job Type
Temporary / Contract / Seasonal
Job Status
Full Time
Job Level
Voluntary & Interns
Application
Deadline
14/04/2011

IMPORTANT: This Advertiser has requested that applicants MUST be National Residents / Valid Work Permit-holders. Other applicants need not apply.
Job Description
ACE Flat-Tail Horn Lizard (FTHL) monitoring internship, BLM CA

12-week position starting June 1st through August 31st, 2011





Summary: The Bureau of Land Management is partnering with American Conservation Experience (ACE), a Non-Profit Conservation Corps based in Flagstaff, AZ, to recruit and coordinate six interns to participate in a flat-tail horned lizard (Phrynosoma mcallii) monitoring project in the Sonoran desert. This study is part of a larger range-wide management plan for the conservation of this lizard and its habitat and will be conducted in four long-term study plots. The Southern California desert is one of the few places where the rare and magnificent FTHL can be found in the world. This internship provides an excellent opportunity for young professionals interested in Herpetology to gain valuable experience monitoring, tracking and handling elusive wildlife species. The FTHL have been proposed to be listed as a threatened species under the ESA a number of times, starting in 1993 by the U.S. Fish and Wildlife Service. Since then, numerous government and non-government agencies have taken the task of monitoring the status of this species to help prevent its further decline.





Duties and Responsibilities:





Biological Monitoring – The interns will work out of the Bureau of Land Management field office in El Centro, CA, that manages approximately 1.4 million acres of public lands spread across the Imperial and San Diego counties. These positions are a hands-on endeavor that will take a very dedicated, focused, and strong individual capable of working independently and with a group throughout the Sonoran desert summer. The Specific tasks include, but are not limited to searching, tracking, locating and capturing all flat-tail horned lizards in the four study plots. Upon capture the interns will take general measurements and implant lizards with PIT-tags. GPS units will be used to record locations of each capture. Interns will be responsible for entering the field data into the BLM database at the end of each day. This may include data entry from other projects as well. Work will be conducted from sunrise to noon each day with a schedule 10 days on and 4 days off cycle, allowing time to explore the beautiful local backcountry. This schedule is subject to change by the BLM as necessary.





Benefit to ACE FTHL Monitoring Interns:




Opportunity to learn how to track, handle and work with flat-tail horned lizards and recognize other desert species tracks and behaviors
Learn PIT tag injection and mark recapture procedures.
Opportunity to work alongside passionate ecology professionals dedicated to the conservation of our public resources.
Exposure to a potential career path within the BLM or other land management agencies, all of which value field experience.
$110 per week living allowance for team members and $140 per week for the team leader & lead data collection intern.
On-site housing, utilities included, will be provided by ACE in or near El Centro, CA.

Qualifications: Applicants should have an undergraduate degree in Herpetology, biology, wildlife ecology, natural resource management or a closely related field and a sound understanding of basic desert ecology. Applicants with extensive hands-on professional experience but lacking a completed degree will also be strongly considered. Most importantly, candidates should have a demonstrated interest in pursuing a career in the management of America's wildlife resources, and possess an interest and knowledge in the field of Herpetology. This passion for the environment and wildlife should be exceeded only by the ability to work safely for up to 10 hours per day in extreme conditions, including in daytime temperatures constantly exceed 110 °F. Candidates must be comfortable living and working in a remote area with many important wildlife species (rattlesnakes, scorpions, etc.) that possess the ability to inflict serious injury when threatened.

The ACE monitoring team structure will be 2 team leaders and 4 team members. Applicants interested in the team leader positions must have previous experience with handling herpetolfauna and/or use of GPS and field data collection methods. All applicants will be required to do whatever is necessary to successfully accomplish the goals of this monitoring project. Along the way, the intern will work side by side with highly experienced and knowledgeable ecologists and managers, gaining invaluable real-world experience!

PSM Students: There is potential to design a project for a masters program in partnership with participating universities. PSM students are strongly recommended to apply for the team leader positions.

Other Requirements:




Must have a valid drivers license and clean driving record
Must be between 18 and 26
Available to US Citizens and legal permanent residents only
Must have own personal vehicle
Personal Medical insurance is required for the duration of the internship
Ability & willingness to undergo a Federal criminal background check which is required of all interns working on BLM land and projects
Drug users, including recreational smokers of marijuana, should not consider applying, as ACE reserves the right to require drug testing




Applicants need not possess every qualification above, however, one must be smart, highly motivated, flexible and possess the necessary self-reliance to figure out how to get things done. ACE interns must be fit, mature, safety conscious, and ready for a responsible adventure.

For more info contact Shane Barrow at 801-946-2722 or sbarrow@usaconservation.org

To Apply:

Please email a resume and cover letter along with 3 professional references in one document to intern@usaconservation.org. Position announcement closes when filled; immediate consideration will be given as resumes and letters are received. Selections need to be made by May 1st to allow for time to complete the federal background check.