&nbsp The following information is taken from the African Impact website
Volunteer Work Africa - Working Holiday Abroad
[
]
Our pride... We are the largest on-the-ground facilitator of responsible volunteer projects throughout Africa in South Africa, Lesotho, Swaziland, Namibia, Botswana, Zimbabwe, Mozambique, Zambia, Kenya, Tanzania, Uganda, Madagascar, Malawi and Ghana. In 2009 we were nominated as finalists in the World Travel
Awards, and are continuously striving to improve the nature of the work that we are doing in Africa.
Our place... Based in Southern Africa we work in partnership with our office and field staff in Southern and East Africa, as well as volunteers from around the world.
Our passion... For this continent, and its susta
inable development, means that we will go out of our way to ensure measurable results for projects through meaningful volunteer experiences.
Our people… Our team is made up of people with vast experience living, working and travelling in Africa. We raise up and invest in local staff wherever possible, and our colourful team is made up of people who have an unparalleled passion and enthusiasm for their work.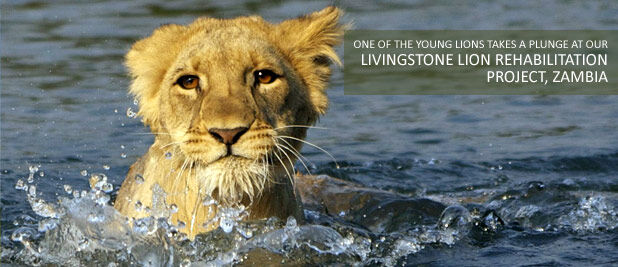 "Our family-run organization has been built with passion and pride."
The Story Behind African Impact
[
]
Since its humble beginnings at our Antelope Park Lion Rehabilitation Project in Zimbabwe in 2004, Andrew and Wendy Conolly, along with a dedicated team of managers, office and field staff, have built African Impact into Africa's leading voluntourism organization.
Our first volunteers were welcomed with open arms to our Antelope Park project in late 2004, and the journey from that date to now has been an exciting and rewarding one!
Having traveled to our volunteer projects throughout Southern and East Africa, I've seen a lot of fascinating things and met a lot of intriguing people!From camping with Masai warriors and camels in the bush of Northern Kenya while scouting a new project; to tracking leopards with experienced scouts in Southern Botswana; taking a 'chicken bus' up to the lip of the breathtaking Ngorongoro Crater in Tanzania, or having the time of my life reading to kids at our adopted orphanage in Mozambique, I have never failed to be continuously inspired, and re-inspired, by the people that I have met.
Whether they were our very own African Impact project managers or participants or local partners such as headmasters in small rural schools or over-eager children with an amazing desire to learn, I am continuously awed by the beauty of the kind of humanity that can eclipse all boundaries and bring people together when working for a common cause.
Ultimately, I prefer to seek out the evidence and outputs that stand to support the work that we are doing. So I will leave you with these comments and in the mean time will look forward to welcoming you to Africa one day!" - Sarah Graham (nee Conolly), Co-Founder, Cape Town, October 2009
"The whole experience was absolutely incredible. It was uplifting, rewarding, challenging, grounding, heart-breaking and soul-destroying in equal measure. To see the absolute joy on the faces of the children when we arrived to spend time with them, or their excitement at being given the opportunity to do something creative, was incredible. This is why I WILL do it again and why I would encourage anyone who is thinking about doing this to go and do it." - Stuart Neath, UK. Past Volunteer to our Mozambique project.
"As a department, we truly appreciate your dedication and hope you recognise, as we do, the valuable role you play in building brighter futures for Zambia's next generation. Thank you for your continuing support. It is through the positive efforts of organisations like yours that we can change a lifetime for a child in need..." Zambian Ministry of Sport, Youth and Child Development, 2008
We invite you to be more than a tourist – to be a traveler, a conservationist and a humanitarian…
Volunteer Projects based in Africa
[
]
Volunteering in Africa takes you one step further into the true character of this intriguing continent than the average visitor. With over 5 years experience in facilitating responsible volunteering in Southern and East Africa, at African Impact we believe we are the on-the-ground African specialists in volunteer project management. We pride ourselves on being ambassadors of responsible and meaningful travel in partnership with our charity The Happy Africa Foundation. Volunteering with us in Africa could mean anything from working with lions at our African Lion Rehabilitation project in Zimbabwe, to teaching children in Cape Town or AIDS work in Mozambique...
Live in close contact with over 100 chimpanzees and other animals in need of care and attention, including bush babies, monkeys and squirrels. Witness incredible animal relationships in the close knit chimpanzee family structure and be part...
How Long: From 2 weeks to 8 weeks, longer placements may be available
Where: Wildlife Orphanage, situated on the banks of the Kafue River Zambia (Northern Zambia)
Price: £899
View Details
Township schoolson the outskirts ofCape Town have meagre and ill-equipped classrooms and facilities. Your mission on this project is to educate and entertain disadvantaged and vulnerable children, while helping to uplift the community not...
How Long: Prices shown are for a 2 week duration with this project offering placements of up to 8 weeks.
Where: Cape Town Southern Peninsula
Price: £835
View Details
As a volunteer on this project, which borders the famous Masai Mara National Reserve in Kenya, you will have the unique opportunity to get involved in vital conservation and wildlife research. Assist with exciting lion research, the...
How Long: 2 weeks - 6 weeks
Where: Masai Mara, Kenya
Price: £920
View Details
In the impressive setting of the Big 5 St Lucia Wetlands Park area, this unique programme offers photography enthusiasts the opportunity to get a different perspective on Africa...
Our Wildlife Photography and Conservation...
How Long: Prices shown are for 4 weeks duration.
Where: St. Lucia, East Coast of South Africa
Price: £1645
View Details
This project is set in the small tropical beach town of Vilanculos. The project involves various aspects of community work and development in and around the area.
We spend our mornings at a local preschool and most afternoons...
How Long: Prices shown are for 2 weeks duration, project available up to 8 weeks.
Where: Vilanculos, Mozambique
Price: £730
View Details
Against the backdrop of the Caprivi region of North Eastern Namibia, volunteers will provide valuable support and real assistance to the region's medical doctors and nurses while bringing immediate benefit to the health and welfare of local...
How Long: Prices shown are for a 2 week duration with this project offering placements of up to 12 weeks.
Where: Katima Mulilo, Zambezi River, Namibia's Caprivi Region
Price: £875
View Details
When an awestruck David Livingstone first saw Victoria Falls in 1855, he wrote in his journal "on sights as beautiful as this, angels in their flight must have gazed". He named the falls after the queen of England at the time, but the...
How Long: Prices shown are for 2 weeks duration, project available up to 8 weeks.
Where: Livingstone, Zambia
Price: £785
View Details
South AfricaIn the impressive setting of the Greater St. Lucia Wetland Park, which has recently been designated a UNESCO World Heritage Site, we offer you the opportunity to interact with and educate AIDS orphans in an Orphan Day Care Centre, alongside...
How Long: Prices shown are for 2 weeks duration, project available up to 8 weeks.
Where: St. Lucia, East Coast of South Africa
Price: £785
View Details
ZimbabweContribute to the welfare of the animals in this private game reserve whether that be the horses in stables, the orphaned elephants that are resident at the Park, the abundant game species and of course the lions of the African Lion...
South AfricaBe part of a rescue organisation whose main focus is to assist distressed pets from the surrounding townships and provide care for them. Work alongside vets who will train you in veterinary practice and educate people from the disadvantaged...
ZimbabweVolunteers will have the opportunity to work closely with AWARE, a non-profit veterinary conservation organisation and the only conservation organisation in Zimbabwe that is run by veterinarians, to contribute to the vital conservation of the...
SwazilandOne of the last remaining absolute monarchies in the world, The Royal Kingdom of Swaziland is rich in both cultural heritage and beautiful rugged scenery. Swaziland's protected nature reserves and parks are characterised by...
ZimbabweYou will live in close contact with black rhino, elephants, buffalo and all the other species of wild animal on the 10,000 acre conservancy…you will witness incredible animal relationships, hear their sounds, record vital...
South AfricaJust 1.5 hours' drive from Johannesburg International Airport in South Africa you will be greeted by rolling hills and the smell of the African bush. Here you will find more than just a cheetah reserve, but a haven in the wild where you will...
MadagascarBe part of a number of exciting research and conservation initiatives, dedicated to Lemurs on an extensive range of projects - from the collection of data on endangered lemur species to environmental education with local communities and even...
MozambiqueGolden sands, coconut palms and the spectacular Indian Ocean stretching as far as the eye can see... This project is as exotic as it sounds. Based near Inhambane in the small seaside village of Tofo, you will have the opportunity to immerse...
You will have the opportunity to work alongside cheetahs and leopards which have been rescued (or possibly even be called on to help rescue one from a local farm) to help rehabilitate them for release back into the wild. You will be very...
ZambiaExperience incredible hands-on work with lions in their natural environment. Contribute to the welfare and rehabilitation of the cubs as they undertake pre-release training in the Mosi-oa-Tunya National Park; take part in a research program...
ZambiaWhether you want to observe lion cubs practice hunting, collect data on a variety of African game species or assess the impact of conservation initiatives on livelihoods, our project locations offer unrivalled opportunities for study.
South AfricaGo behind the scenes of a Big 5 private game reserve and work alongside game rangers and field guides along the scenic 'Wild Coast' of Africa. Volunteers will have unique opportunities to experience a game reserve, including working hands-on...
MadagascarWork alongside impoverished communities and be involved in educational activities, construction work, sustainable livelihood projects, and conservation research; from activities such as building wells and schools, to teaching English and...
Walk and work with lions in this exclusive private game reserve. Be involved in the research of lions' behaviour and work with us on the world's only programme for their release into the wild. Also assist with orphaned Elephants and the...
ZimbabweAgainst the backdrop of the majestic Victoria Falls, this project is a combination of work on our lion breeding and rehabilitation programme that is an extension of our Antelope Park programme, along with National Parks conservation work...
South AfricaA unique opportunity to view, observe and be involved in the research of the magnificent Great White Shark in its natural environment! You will also see other wildlife species, including Cape Gannets, Bryde Whales, Cape Fur Seals, Dolphins...