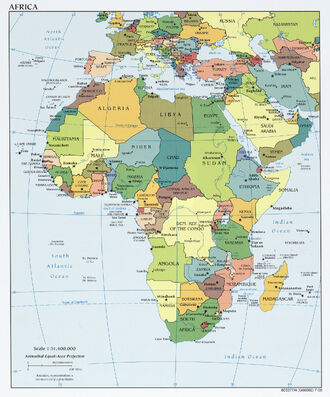 Programs in Africa include:
Alexandria Zoo accepts volunteers in Egypt.
African Impact are the largest on-the-ground facilitator of responsible volunteer projects throughout Africa in South Africa, Lesotho, Swaziland, Namibia, Botswana, Zimbabwe, Mozambique, Zambia, Kenya, Tanzania, Uganda, Madagascar, Malawi and Ghana.
Bridge volunteers has a number of projects in Africa and South America
APOPO: Detection Rats Technology trains mine detecting rats in Tanzania and Mozambique.
Australian Youth Ambassadors for Development provides funding for skilled young Australians to work on projects abroad including Africa.
The Colobus Trust takes ecotourism volunteers and currently has positions for volunteer research assistants to help a PhD student.
Classic Safari Company runs veterinary experience safaris in South Africa.
Ecovolunteer Nature Travel offers programs in South Africa, Swaziland and Zimbabwe.
Ecolife Expeditions offers ecotourism courses, some of which can be creditted towards university courses
Eko Tracks offers wildlife conservation courses, wildlife & big cat rehabilitation and , some specifically targetted at veterinary students in Botswana, Namibia and South Africa
Harnas Wildlife Foundation in Namibia.
i-to-i travel offers a number of ecotourism experiences throughout Africa
Indlovu West Conservation Research runs research programs within Kruger National Park with eliphants, lions and other animals. They take interns and volunteers from 2 weeks to 6 months. There is a charge to cover costs.
Involvement volunteers offers ecotourism experiences in South Africa and Kenya
iMauritius Marine Conservation Society promotes marine conservation in Mauritius.
Nyati Conservation Corps offers various ecological and wildlife survey experiences in South Africa
Uganda Wildlife Education Centre offers ecotourist stays at their facility.
Wildlife ACT undertakes monitoring measures as a private, self-funded service provider to those reserves which do not have the capacity to run such projects themselves.Fundings is provided by volunteers.
Community content is available under
CC-BY-SA
unless otherwise noted.